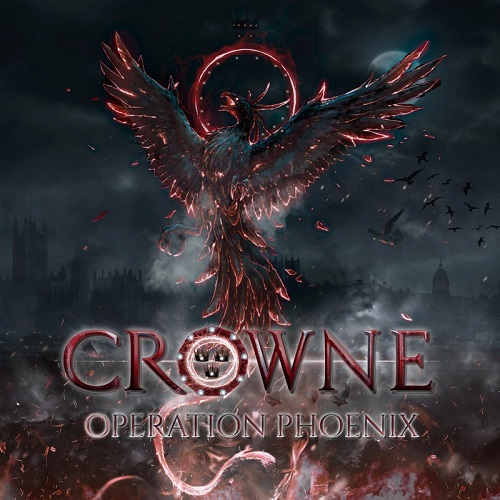 CROWNE
Titel: OPERATION PHOENIX
Spieldauer: 45:26 Minuten
VÖ: 27. Januar 2023
"Operation Phoenix", das Zweitwerk von CROWNE, der schwedischen Melodic Rocker mit leichtem Hang zum Melodic/Power Metal, liegt vor und wurde erneut von Bandmitglied Jona Tee (H.E.A.T., New Horizon) produziert.
Dem Keyboarder stehen wie zuvor Sänger Alexander Strandell (Art Nation), Bassist John Levén (Europe) und Drummer Christian Lundqvist (The Poodles) zur Seite, neu dabei als festes Bandmitglied ist Gitarrist Love Magnusson (Dynazty).
Und CROWNE machen genau da weiter, wo sie mit dem bockstarken Vorgänger "Kings In The North" aufgehört haben. Der neue Longplayer bietet elf abwechslungsreiche, allesamt unterhaltsame Stücke vielleicht nicht aus dem obersten, aber doch einem sehr hohen Regal.
Es gibt packende Songs zwischen AOR-Hymne (`Operation Phoenix´), melodischen Power Metal (`In The Name Of The Fallen´), flottem, eingängigen Hardrock mit Hammer-Refrain (`Ready To Run´), rockigem Lovesong (`Juliette´) und dem absoluten Ohrwurm `The Last Of Us´.
Der grandiose Dreierpack aus dem stampfend-mitreißenden Rocker `Roar´, dem luftig-eingängigen `Victorious´ und der abschließenden, erneut Richtung Power Metal schielendenen Stadionrockhymne `Northern Lights´ markiert den beeindruckenden Ausklang einer sehr guten Rockscheibe einer Supergroup, die diesen Namen auch verdient und diesem mit starken Outputs nach wie vor gerecht wird.
Michael Gaspar vergibt 8 von 10 Punkten