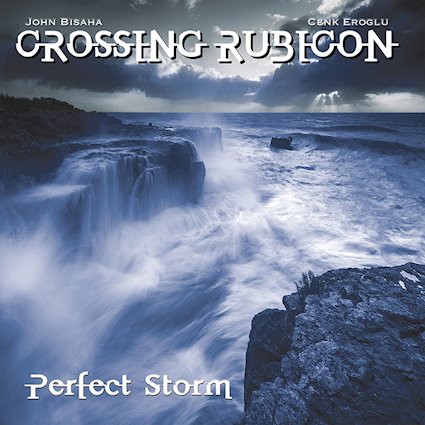 CROSSING RUBICON
Titel: PERFECT STORM
Spieldauer: 54:19 Minuten
VÖ: 08. Juli 2022
"Perfect Storm" ist das Debütalbum von CROSSING RUBICON, eines neuen Projekts des türkischen Künstlers und Gitarristen Cenk Eroglu (ex-Winger, Xcarnation) mit Sänger John Bisaha (The Babys).
Das Erstwerk bietet klassischen Melodic Rock in gemäßigter Geschwindigkeit und mit einer eigenständigen, kraftvollen Stimme. Die elf Kompositionen sind nach eigener Aussage "eigenständig, frisch und zeitgemäß", man könnte sie aber auch als eher träumerisch und "laid back" bezeichnen.
Der Opener und Titelsong bringt dann auch direkt 80er/90er Hardrock-Feeling ins Haus und kann wie auch die folgende Vorabauskopplung `Reason To Die´ mit einer gewissen Eingängigkeit und einem guten Chorus punkten.
Auch ansonsten überzeugen vor allem die flotteren, eingängigeren Songs wie das packende `On The Run´ mit seinem modern-elektronischen Beginn und das ebenfalls mit etwas Synthiepower glänzende `Cry Me A River´.
Zu guter Letzt stechen noch das schöne, auch eher ruhige Duett `Crash & Burn´ heraus, welches Frontmann Bisaha mit seiner Ehefrau Holly bestreitet, sowie das abschließende hymnische `Time (Without You) heraus.
Ein solides, handwerklich einwandfreies, melodisches Stück Rock, dem für eine bessere Bewertung dann aber insgesamt doch ein wenig die Eigenständigkeit und Abwechslung fehlt. Zudem ist der Anteil von vier bis fünf mehr oder weniger balladesken Stücken ein wenig zu hoch ausgefallen.
Michael Gaspar vergibt 6,5 von 10 Punkten