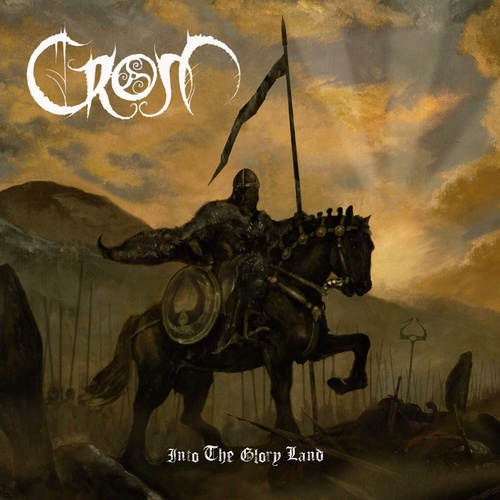 CROM
Titel: INTO THE GLORY LAND EP
Spieldauer: 21:11 Minuten
Ich gebe zu, ich höre die Band des ex Dark Fortress Muckers Walter "Crom" Grosse schon seit Zeiten der ersten EP "The Fallen Beauty" und eines Jahre zurück liegenden Auftrittes beim Swordbrothers Festival überaus gerne.
Die "Band", die keine Band im eigentlichen Sinne darstellt, aus Landshut läuft zwar unter dem Banner Viking oder Pagan Metal, hat aber über die Jahre eine weitaus deutlichere Schlagseite Richtung Power Metal genommen als jede andere ernst zu nehmende Viking Band.
Dies steht CROM allerdings gut zu Gesicht. Vier Jahre nach der letzten Scheibe "When Northmen Die" gibt es neues Futter in Form einer 5-Track EP.
Der eröffnende Titeltrack 'Into The Glory Land' geht nach einem epischen Einstieg in einen hymnischen Mid Tempo Banger über. Das trotz des angezogenen Tempos hymnische und heroische 'Riding Into The Sun' bestätigt die Stärke von CROM.
Danach gibt es mit 'The Hanging Tree' einen akustischen Track, der stark an englische Traditionals erinnert. Von dem bereits bekannten 'Wings Of Fire' gibt es ebenfalls eine gelungene akustische Version, bevor die EP mit der akustischen Coverversion von Bathory's 'Song To Hall Up High' endet, bei dem die Verehrung CROM's für selbige deutlich zu Tage tritt.
Gelungenes Lebenszeichen des Bajuwaren, das die Erwartung an neues Material steigert.
Ludwig Lücker vergibt 8 von 10 Punkten