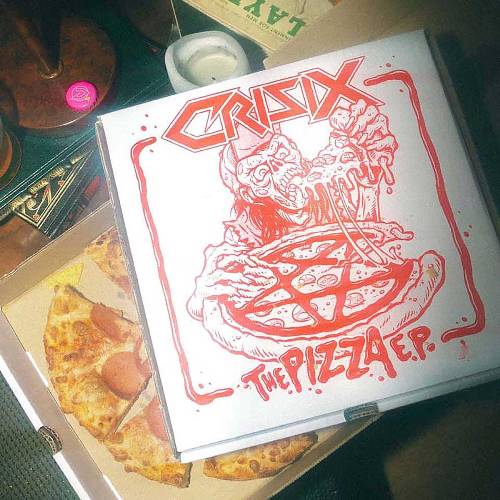 CRISIX
Titel: THE PIZZA E.P.
Spieldauer: 11:24 Minuten
Von den spanischen, respektive katalanischen Thrashern CRISIX gibt es eine neue EP, welche passend zum Titel mit einem Pizza Karton Artwork verziert ist; wahlweise auch umgekehrt.
Zwar ist es ein wenig verwunderlich, dass CRISIX drei Jahre nach ihrem letzten Langeisen "nur" eine EP mit vier Tracks veröffentlichen, aber sie werden hoffentlich wissen, was sie tun.
Das Quintett zockt relativ modernen, knackigen Thrash Metal und ballert auf allen vier Tracks aus allen Rohren. Handwerklich gekonnt, muss ich Ihnen aber attestieren, dass der Weg ins Langzeitgedächtnis nicht komplett gelingt. Mit dem zwischen Mosh Parts, Speed Passagen und einem coolen pumpenden Part wechselnden 'Raptors In The Kitchen' haben sie ein höchst unterhaltsames und abwechslungsreiches Stück in petto, die anderen drei Tracks verharren aber im gehobenen Mittelmass; gut gezockt, aber die letzten Hooks um sich fest zu fräsen  fehlen.
Fans der Katalanen können relativ unbesorgt zu greifen, sonstige Thrasher sollten mal ein Ohr vorab riskieren.
Ludwig Lücker vergibt 7 von 10 Punkten