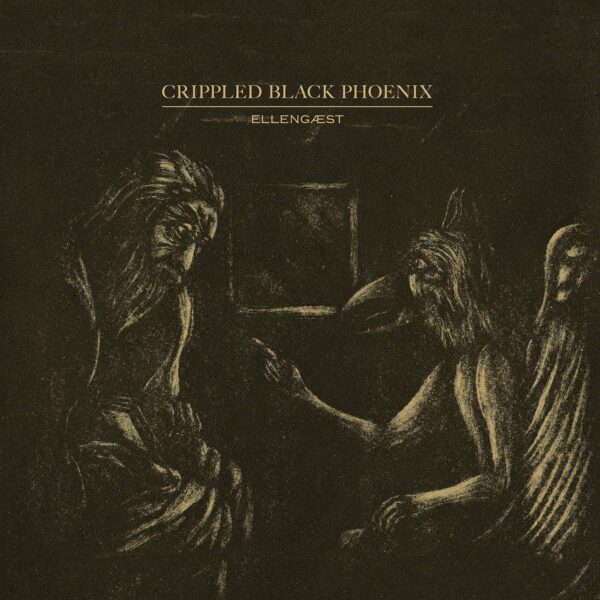 CRIPPLED BLACK PHOENIX
Titel: ELLENGÆST
Label: SEASON OF MIST / SOULFOOD
Spieldauer: 54:48 Minuten
Denkt man zu Beginn kurz, man habe das neue ENSLAVED-Album aufgelegt, so schlägt der Song doch schnell um und versprüht die eklektische Aura, die so typisch ist für CRIPPLED BLACK PHOENIX: "House Of Fools" klingt, als hätten Roger Waters, Robin Proper-Sheppard und Nick Cave den Post Metal für sich entdeckt und gemeinsam den Soundtrack für einen Film Noir komponiert. Nachdem ihm mal wieder diverse Mitstreiter verlustig gingen, machte Justin Greaves nämlich aus der Not eine Tugend und lud zahlreiche befreundete Musiker ein, Gastbeiträge zu "Ellengæst" beizutragen. So haben hier etwa Tribulations Jonathan Hultén (tolle Performance im meditativen "The Invisible Past"), Anathemas Vincent Cavanagh sowie Gaahl Espedal (macht bei "In The Night" cool einen auf Tom Waits light) ihren Beitrag geleistet. Dadurch wohnt diesem Album wohl noch stärker als anderen der Projektcharakter inne.
Jedoch verleiht Belinda Kordic dem Album auch eine dezidiert feminine Note, die CRIPPLED BLACK PHOENIX bislang in dieser Intensität noch nicht innewohnte. In Songs wie den vorab vorgestellten "Lost" (tolles Arrangement) und "Cry Of Love" findet sich zudem eine latente Wave-Note, die die Stücke geradezu tanzbar macht. "In The Light" und "Everything I Say" sollten Tarantino hellhörig machen und Greaves als Komponisten eines schwül-grotesken Roadmovies in Frage kommen lassen, wobei penibel auf die rechte Dynamik geachtet wird und leise sich stets mit eruptiv anmutenden lauteren Momenten abwechseln.
Schlechte Alben kann Justin Greaves selbst unter widrigen Umständen nicht. Auch wenn nach der erneuten Wave-Hommage "She's In Parties" nicht die Sektkorken knallen und die Klassikeralarm-Party eingeläutet wird, so weiß man doch, dass auch "Ellengæst" in Zukunft noch die eine oder andere Ehrenrunde wird drehen dürfen. Und "Cry Of Love" sollte live definitiv abräumen.
Patrick Müller vergibt 8 von 10 Punkten