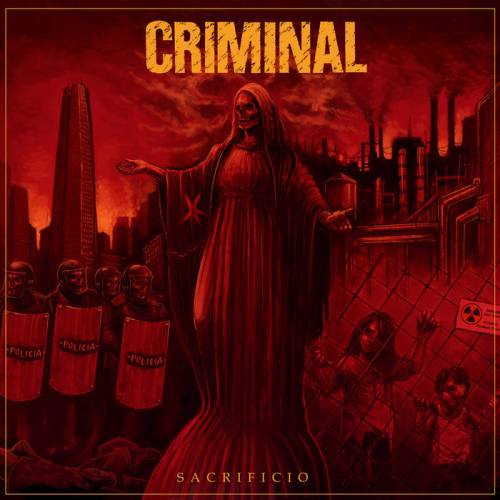 CRIMINAL
Titel: SACRIFICIO
Spieldauer: 42:04 Minuten
Ihr habt ne scheiß Laune? Ihr wollt euch mal wieder so richtig die Locken weg fönen lassen?
Nun, dann seid ihr bei dem mittlerweile neunten Langeisen der Chilenen CRIMINAL genau richtig. Zwölf Tracks in zweiundvierzig Minuten lang ballert euch das Quartett aus Santioga messerscharfe Riffs um die Ohren, und dies dermaßen brachial, dass ihr denkt, ein D-Zug hätte euch überrollt.
Der Death/Thrash von CRIMINAL weist noch fette Anteile an Groove Metal und ne leichte Hardcore Affinität aus und gibt ordentlich Gas. Bei Tracks wie dem rasenden Opener 'Live On Your Knees', dem mit einem coolen Drum Groove beginnenden 'Caged', dem in spanisch gesungenen pumpenden Groover 'Zona De Sacrificio', dem nach ruhigen Beginn mächtig pumpenden 'Age Of Distrust', dem groovenden 'Hunter And The Prey' und dem teils hymnischen 'Ego Killer' bleibt keine Möglichkeit zu verschnaufen, was durch eine knackige und differenzierte Produktion noch unterstützt wird.
Südamerika erweist sich immer mehr als ein Qualitätslevel für die härteren Bereiche unserer geliebten Mucke und auch CRIMINAL bildet hier keine unrühmliche Ausnahme.
Ludwig Lücker vergibt 8 von 10 Punkten