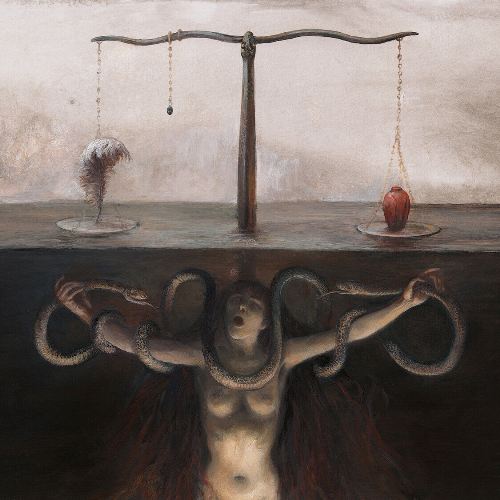 CRESTFALLEN QUEEN
Titel: HALL OF MAATI EP
Label: VOVEM INTERIOREM MANIFESTATIONS
Spieldauer: 20:00 Minuten
VÖ: 11.2.2022
CRESTFALLEN QUEEN sind eine noch recht junge Band aus Stuttgart, die 2019 mit ihrem Debüt Langeisen "Queen Of Swords" zum ersten Mal auf sich aufmerksam machen konnte.
Nun, drei Jahre später, veröffentlicht das Quintett eine EP mit zwei Tracks, um einmal wieder auf sich aufmerksam machen zu können. Wobei sich zwei Tracks nach weniger anhört, als es ist, denn die beiden Songs bringen es immerhin auf eine Spielzeit von zwanzig Minuten.
Bei solch einer Spielzeit liegt der Gedanke an Doom Metal nicht fern. CRESTFALLEN QUEEN mischen diesen aber mit vielen Progressive Metal Parts und sorgen schon innerhalb der einzelnen Songs für enorm viel Abwechslung. Ein wenig geht hier zwar der berühmt berüchtigte rote Faden flöten, was aber durch die musikalische Ausrichtung verzeihlich ist.
Open Minded Doomer aber auch Freunde progressiverer Klänge sollten sich 'Eclipse Of Truth' und 'The Seventh Hour', die beide auf exakt zehn Minuten auslaufen, einmal anhören. Mir jedenfalls gefällt das Gehörte.
Ludwig Lücker vergibt 7,5 von 10 Punkten