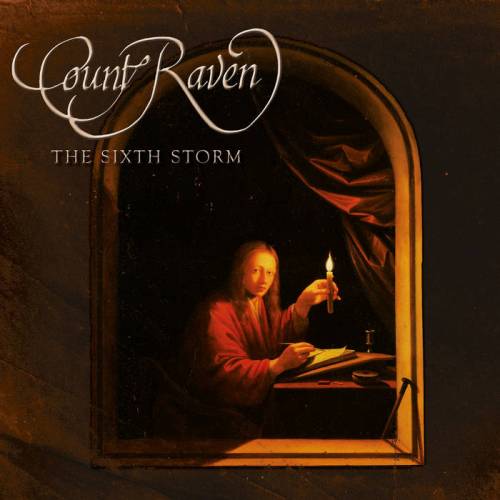 COUNT RAVEN
Titel: THE SIXTH STORM
Spieldauer: 73:23 Minuten
COUNT RAVEN aus Stockholm gehören zweifelsfrei zu den Semi Legenden des Doom Metal. Zwar wanderten die Jungs häufig im Schatten der ganz großen Namen des Genres, lieferten aber seit ihrer Gründung 1989 – zwei Jahre zuvor begannen sie noch als Stormwarning – immer gute Alben ab, vielleicht nur zu wenige.
Das aktuelle Album ist lediglich ihr sechstes Werk – Nomen est Omen – seit der Gründung; das letzte Album auch schon ganze 12 Jahre her. Aber dafür bietet das aktuelle Album auch wieder so einiges, um Doom Jünger in den Veitstanz zu jagen, auch wenn der Sound gerne etwas klarer hätte sein können.
Dafür stimmen die Songs. Der zu Beginn fett groovende Opener 'Blood Pope', der im Verlauf schleppender wird, zeigt gleich die Marschroute von "The Sixth Storm" an. Das Tempo variiert, verlässt gerne auch mal reine Doom Gefilde, bleibt aber immer schön düster. Düster ist auch das Stichwort des nächsten Tracks 'The Curse', der dabei dennoch hymnisch, ja sogar fast melodisch wirkt. Das groovig rockige 'The Nephilim's' haut mit seiner melodischen Vocal Line in die gleiche Kerbe.
Und auch das pumpende 'The Giver And The Taker', das doomig-groovende 'Baltic Storm' und das im Mid Tempo beginnende und dann für Doom Verhältnisse fast speedige 'Oden' mit seinen melodischen Vocals wissen zu begeistern.
Dies werden die Vocals von Dan "Fodde" Fondelius, die wie immer an Ozzy erinnern, zwar nicht jeden, ich finde sie allerdings überaus passend.
Doom Fans MÜSSEN hier zu greifen.
Ludwig Lücker vergibt 9 von 10 Punkten