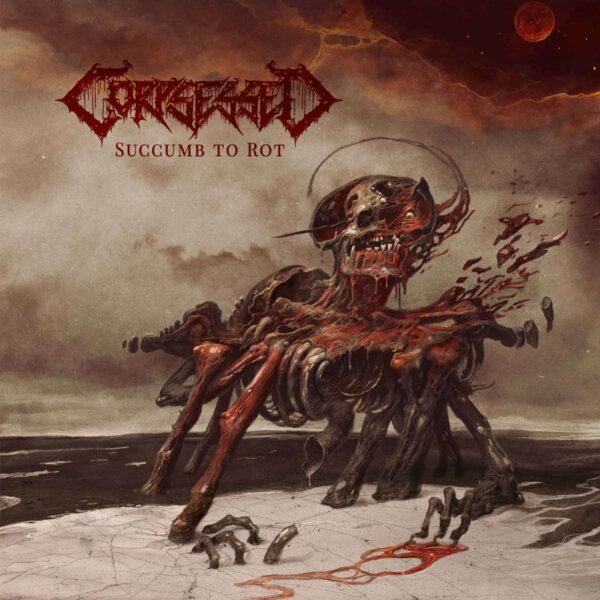 CORPSESSED
Titel: SUCCUMB TO ROT
Label: DARK DESCENT RECORDS
Spieldauer: 36:24 Minuten
VÖ: 22. April 2022
Was war der Vorgänger Impetus of Death doch für ein finsteres Stück Todesstahl. Vier Jahre später beehren uns die Finnen von CORPSESSED mit neuem Tonmaterial. Und wieder ist es böse, roh, mal rasend mal schleppend und fies. "Succumb to rot" trägt viel Frühneunziger Eiter und Knochensplitter in sich, verliert aber den Blick auf frische Blutkonserven und Geschwüre nicht. 
Das Album fängt wieder mit einem bedrohlichen Instrumentalstück an. Düster und mächtig, so wie der Gesamtsound der Band ist. Vergleiche zu Szenegroßmeistern wie Funebrarum, Dead Congregation oder gar Incantation sind zulässig, erklären aber CORPSESSED nicht abschließend. Teilweise setzen die Finnen Doppelgesang mit bunkertiefen Growls und heiseren Gekeife ein. Das verleiht dem Album nochmals ne Schippe Boshaftigkeit oben drauf. Die Gitarren schwirren und schwelen, das Schlagzeug ist treibend und mächtig. Der Sound rollt quasi unaufhaltsam aus den Boxen.
Die Tracks kommen alle gleichwertig daher und Songs im Sinne von Hits gibt es nicht. Oder andersherum: hier bewegen sich die Tracks auf sehr ähnlichem Niveau. Mit 36 Minuten hat die Scheibe auch die angemessene Zeit um die Durchschlagskraft zu erhalten. Feine Sache und absolut empfehlenswert!
Ingo Holzhäuser vergibt 8,5 von 10 Punkten