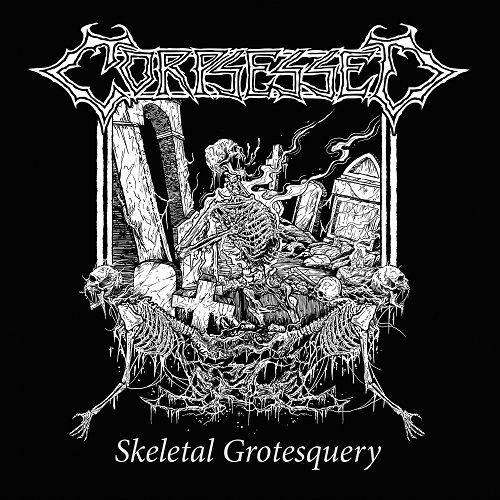 CORPSESSED
Titel: SKELETAL GROTESQUERY
Label: KRUCYATOR PRODUCTIONS
Spieldauer: 43:45 Minuten
VÖ: 29. Mai 2023
Die finnische Death Metal Band CORPSESSED ist in meinen Augen eine großartige Truppe und eine Bereicherung für die gesamte Szene. Egal ob nun Bandklassiker wie Impetus of Death oder Succumb to Rot, die Finnen verstehen ihr Handwerk im Studio. Und live? Einer solchen Bewertung sahen sie sich auf dem letztjährigen November Braincrusher in Hell im beschaulichen Hirschaid ausgesetzt. Und genau darum geht es auf "Skeletal Grotesquery".
"Skeletal GROTESQUERY" ist nun ein Tondokument vom Auftritt der Finnen am 25. November 2022. Den Startschuss legt 'Succumb to Rot' und der Sound ist mächtig und klar. Der Bass geht bis ins Mark, die Gitarren schneiden tief ins Fleisch. 'Relentless Entropy' hackt weiter mit einem differenzierten Sound mit Gleichberechtigung für Vocals und Instrumente. Die Song können ihre teils verschwörerische Atmosphäre perfekt entfalten und ich muss zugeben etwas neidisch auf das anwesende Publikum zu sein. Die dargebotenen Tracks egal ob 'Spiritual Malevolence', 'Sortilege', 'Ravening Tides' oder das abschließende 'Pneuma Akathartos' sind hervorragend ausbalanciert, kommen mächtig, roh und sehr fett aus den Boxen. So besehen haben CORPSESSED hier wohl einen Geniestreich hingelegt, der sich hören lassen kann und einen schönen Einblick in das bisherige Schaffen der Finnen bietet. 
Für Fans der Band und Freunde des ungeschönten, authentischen und rohen Death Metals schon fast unentbehrlich.
Ingo Holzhäuser vergibt 8,5 von 10 Punkten