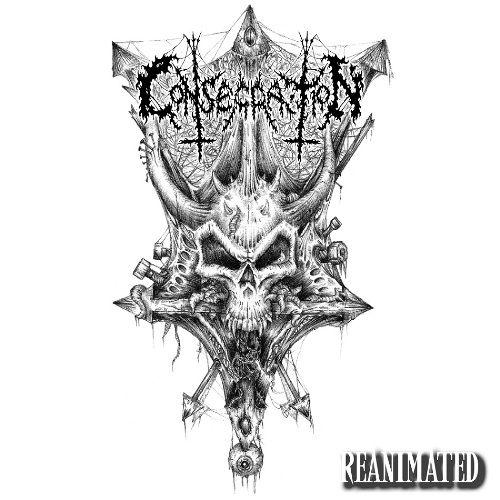 CONSCRATION
Titel: REANIMATED EP
Spieldauer: 22:01 Minuten
Die aus dem englischen Norfolk kommende Band CONSECRATION existiert zwar erst seit elf Jahren, ihre Musik allerdings hat ihren Ursprung in der typischen englischen Doom/Death Metal Szene und atmet den Spirit alter englischer Bands des Genres.
Die Stimmung ist doomig, melancholisch, atmet aber zugleich einen latenten Hauch an Aggressivität.
So schlurfen hier drei Tracks in zweiundzwanzig Minuten über den geneigten Hörer hinweg.
Der tiefer gestimmte Einstieg von 'Cast Down For The Burning MMXXI' wechselt in eine fiese Doom/Death Walze mit einem überraschend groovigen Part. Das nachfolgende 'Gut The Priest MMXXI' ist relativ typisch walzend und schleppend, bevor es nach ruhigen Beginn mit 'Domain Of Despair' zu Ende geht.
Die Engländer warten hier mit keinen großen Überraschungen auf, präsentieren aber einen grundsoliden Doom/Deather alter englischer Provenienz
Ludwig Lücker vergibt 7 von 10 Punkten