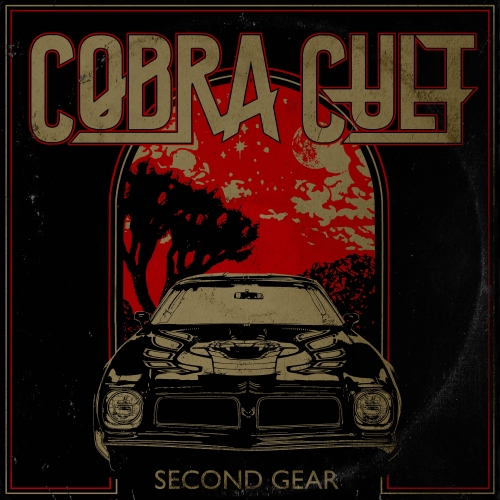 COBRA CULT
Titel: SECOND GEAR
Spieldauer: 23:51 Minuten
Schwedischer Rawk'N'Roll vom Feinsten wird einem auf dem zweiten Album "Second Gear" von COBRA CULT (geiler Bandname übrigens) rücksichtslos um die Ohren gefeuert. Unter der Führung von Sängerin und Gitarristin Johanna Lindholm werden hier in knapp 24 Minuten (fast) keine Gefangenen gemacht, und dem Freund rotzig-angepunkten Rock'N'Rolls ein selig-grenzdebiles Grinsen ins Gesicht gemeißelt. Was eigentlich doof ist, fällt einem doch dadurch ständig die lässig eingeworfene Kippe aus dem Mundwinkel.
Sieben Mal rotzen COBRA CULT Tracks zwischen schnell und sehr schnell auf den Tonträger. Dabei pendelt man zwischen Kick-Ass Rock'N'Roll wie im Opener 'Sell Your Soul' mit Motörhead-Gedächtnis-Doublebass-Anfang oder dem formidablen Fistraiser 'Run For Your Life' und eher Punkrock-mäßigem wie 'Hey!?' oder 'Dust On My Boots' und 'Hit The Stage'. In die Eisen gehen COBRA CULT nur einmal, bei der Midtempo-Stampfnummer 'Mean Machine', frei nach dem Motto: Diese Platte ist zu kurz für langsame Songs. Ganz wichtig bei dieser Art Mukke: Die Refrains gehen verdammt schnell ins Ohr, was auch daran liegt, dass sie häufig eine gewisse, trotzig-melancholische Social Distortion-Schlagseite aufweisen. Als weitere Referenz kommen auch immer wieder The Donnas in den Sinn. Das Vergnügen perfekt macht die oberfette Produktion von Robert Pehrsson. Einziges wirklich klitzekleines Manko? Manchmal wünscht man sich, dass Frau Lindholm mehr die Röhre anschmeißt, es fehlt Ihrer Stimme ein bisschen an Rotz.
COBRA CULT haben mit "Second Gear" ein Album herausgebracht, dass, beim Autofahren genossen, das Punktekonto in Flensburg in kürzester Zeit zum Überlaufen bringen wird, wegen Geschwindigkeitsübertretung und Alkohol am Steuer. Wenn das hier erst der zweite Gang ist, dann kann ich mir den dritten und vierten nicht einmal vorstellen.
Dirk Eckhard vergibt 8,5 von 10 Punkten