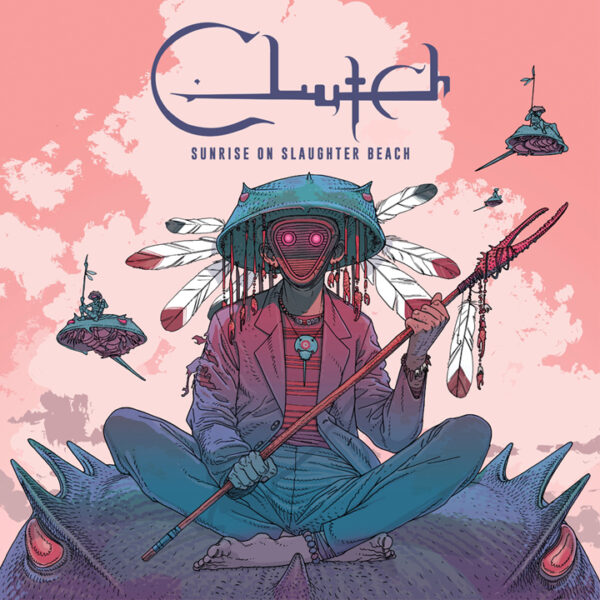 CLUTCH
Titel: SUNRISE ON SLAUGHTER BEACH
Label: Weathermaker Music
Spieldauer: 33:16 Minuten
VÖ: 16. September 2022
Neues aus Germantown: Nach den zwei Single-Auskoppelungen `Red Alert` und `We Strive For Excellence` erscheint am 16. September die neue CLUTCH Platte "SUNRISE ON SLAUGHTER BEACH".
Die vier Schulkameraden Neil Fallon, Tim Sult, Dan Maines  und Jean-Paul Gaster  aus Germantown, Maryland bringen seit nunmehr drei Jahrzehnten regelmäßig ihre ansprichsvolle doomige Stonermusik zu Gehör. Über die neue Platte fällt Schlagzeuger Jean-Paul Gaster ein überraschendes Urteil: "Je mehr die Songs Gestalt annahmen, desto weniger sah ich so ein Album. Etwas anderes nahm Gestalt an. Die Platte, mit der wir gelandet sind, ist in gewisser Weise die unterschiedlichste Platte, die wir seit langem gemacht haben."  Weiter berichtet Gaster, er dachte, dass das "SUNRISE ON SLAUGHTER BEACH" ähnlich wie bei vielen anderen Bands eine Reaktion auf CORONA und die Polarisierung in der Gesellschaft werden würde. Im Laufe der Aufnahmen entwickelte es sich jedoch zu einem vielschichtigen Album, das musikalische und textlich viele Facetten der gereiften Band zeigt.
So liefern CLUTCH mit ihrem 13. Album überzeugende Titel wie `Red Alert`, `Mountain of Bone`Skeletons on Mars` vor. Eine Empfehlung ist der (Titel) song: ´Slaughter Beach´. Bei ihm wird ein wunderbar doomiger stoner Blues ausgepackt, bei dem Füße und der Kopf gewackelt werden können.
Interessant ist, das sich neben dem bekannten CLUTCH Sound auf "SUNRISE ON SLAUGHTER BEACH" auch Instrumente wie Vibrafon und Theremin finden und die Jungs durch Background-Gesang von Deborah Bond und Frenchie Davis unterstützen lassen.
Die neun Songs des Albums sind mehr als abwechslungsreich und werden eingefleischte CLUTCH Fans sicherlich begeistern. Ob die Platte ankommt und auch alle Fans überzeugen wird, kann sicher auf der anstehenden Tour in Deutschland und der Schweiz beobachtet werden.
Der Wandel von einer Hard Rock Band zu Stoner Rock und jetzt zu Bluesrock, wie man ihn sonst früher von The Grateful Dead oder den Allman Brothers kannte, birgt eben auch seine Risiken.
Oliver Kämpf vergibt 7,5 von 10 Punkten