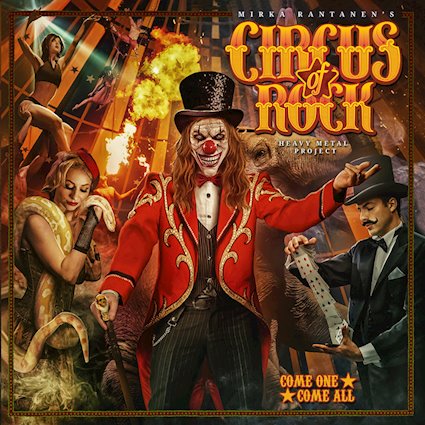 CIRCUS OF ROCK
Titel: COME ONE, COME ALL
Spieldauer: 57:09 Minuten
Auf mehr als dreißig Alben (u. a. mit King Company, Raskasta Joulua, Kotipelto, Warmen, Northern Kings, Revolution Renaissance) ist der finnische Schlagzeuger Mirka Rantanen im Laufe seiner langen Karriere mittlerweile zu hören gewesen. Mit dem Hard Rock-Projekt CIRCUS OF ROCK und dem Debüt "Come One, Come All" erfüllt er sich pünktlich zu seinem diesjährigen, fünfzigsten Geburtstag seinen musikalischen Lebenstraum.
Es sollte sich dabei nicht hauptsächlich um das Solo-Album eines Drummers drehen, sondern der Fokus auf der Zusammenarbeit mit talentierten Kollegen, vor allem herausragenden Sängern, und guten Songs liegen. Beides ist definitiv gelungen, denn sowohl die illustre Gästeliste mit ehemaligen und aktiven Mitgliedern von Bands wie u. a. Amaranthe, Tyketto, Hardline, Nightwish, Leverage und Thunderstone, als auch die dreizehn frisch komponierten, melodischen Rock-Songs können sich sehen und hören lassen.
Der schnelle Opener 'The Beat' geht in Richtung melodischer Power Metal und erinnert, auch aufgrund der recht hohen Vocals von Riku Turunen, ein wenig an Stratovarious, bevor die gute Power-Ballade 'Desperate Cry' von Johnny Gioeli (Hardline, Axel Rudi Pell) veredelt wird. Ex-Nightwish-Gitarrist/Sänger Marco Hietala darf sich beim folgenden 'Sheriff Of Ghost Town' mal von einer ganz anderen Seite zeigen und ähnlich wie bei Tarot dazumal beweisen, was für ein geiler Sänger er eigentlich ist.
Für ein weiteres Highlight sorgt dann Amaranthe-Frontfrau und Sangesgöttin Elize Ryd. 'In Times Of Despair' überzeugt mit schöner Melodieführung, Klasse-Refrain und lässt erst gar an einen Bond-Song denken, um dann an in Keys und rhythmischen Vocals an ihre Hauptband zu erinnern.
Das folgende 'Crossroads' glänzt durch das raue, rockige Organ von Thunderstone-Fronter Pasi Rantanen. Später werten ein packendes Solo und Masterplan-Reibeisen Rick Altzi den ohnehin mitreißenden Track 'Edge Of Love' auf. Aber auch die eher unbekannten, zumeist finnischen Vokalisten machen einen sehr guten Job und präsentieren stimmige Songs. Hier seien als gelungene Beispiele das unterhaltsame, an Waltari erinnernde 'Plywood Covered Windows And Crappy Shoes' (feat. Anti Railio) und die abschließende, gefühlvolle Ballade 'Tears Of The Clown' (feat. Erik Kraemer) genannt.
"Come One, Come All" ist eine sehr gute Multivokalisten-Platte mit beinahe durchweg starken Songs, die trotz der unterschiedlichen Besetzungen wie aus einem musikalischen Guss klingt, trotzdem extrem abwechslungsreich ist und auch beim x-ten Durchlauf noch Spaß macht.
Michael Gaspar vergibt 8,5 von 10 Punkten