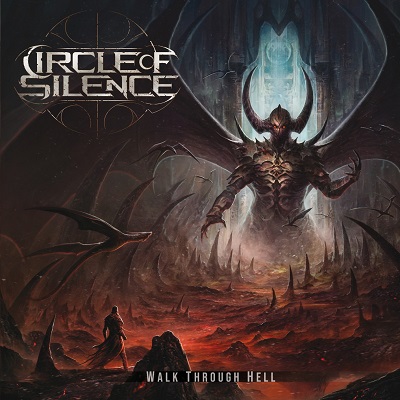 CIRCLE OF SILENCE
Titel: WALK THROUGH HELL
Spieldauer: 47:43 Minuten
VÖ: 27. Mai 2022
Die deutschen Power Metaller präsentieren ihren vierten Longplayer "Walk Through Hell", der durch den unerwarteten Tod, des Anfang April verstorbenen Bassisten und Gründungsmitglieds der seit fünfzehn Jahren bestehenden Urbesetzung Björn Böhm, überschattet wird und somit die Tragik erfährt, dass dieser die neuen Songs einspielen, deren Veröffentlichung aber nicht mehr miterleben konnte.
Schauen wir uns also die zehn neuen Tracks an, denn sie sind es aber so was von wert. Der baden-württembergische Fünfer parktiziert harten, dunklen, melodischen (US-) Power Metal. Hier dominieren Doublebass, hymnische Refrains und jede Menge Groove.
Für die düstere, schwere Atmosphäre der Platte sorgen die allesamt in Drop-C Stimmung geschriebenen Stücke. Und doch sind Tracks wie das eingängige `Prisoner Of Time´, das stampfende `Walk Through Hell´ und die beiden Hymnen `United´ und `I Am Fear´ mitreißend, facetten- und abwechslungsreich.
Über die gesamte Spielzeit liefern die Heilbronner einen bockstarken Silberling voller Spielfreude, Energie und Herzblut mit persönlichen Texten, einem großartigen Sänger und starken Songs, die vor allem durch die finstere Stimmung, gute Refrains und die zahlreichen mehrstimmigen Chöre bestechen.
Weitere Anspieltipps: die beiden Vorabsingles `At War With Yourself´ und `Triumph Over Tragedy´ das hymnisch-majestätische `I Want More´ und das fantastische `God Is A Machine´.
Michael Gaspar vergibt 9 von 10 Punkten