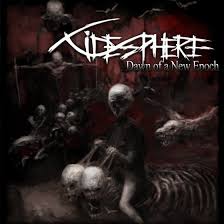 CIDESPHERE
Titel: DAWN OF A NEW EPOCH
Spieldauer: 41:32 Minuten
Auf dem in den letzten Jahren sehr aufstrebenenden Death Metal Label Testimony Records veröffentlicht die aus der Türkei stammende Band CIDESPHERE ihr zweites Album.
Testimony Records punkten mit qualitativ wertigen Releases was sowohl die veräußerten Tonträger als auch die Musik betrifft. CIDESPHERE spielen melodischen und mittelschnellen Death Metal vernehmlichst schwedischer Couleur. Sie schlagen irgendwo in die Kerbe zwischen 90er IN FLAMES, neueren AT THE GATES und HYPOCRISY. An der ein oder anderen Gesangslinie vermag man sogar AMON AMARTH heraus zu hören. Wikinger vom Bosporus? Weit gefehlt und dennoch hört sich die Musik von CIDESPHERE mehr nach Kallax und Köttbullar an als nach Köfte und Raki. Mehrere Songpassagen hätten direkt aus der Feder von AT THE GATES stammen können. Der Gesang ist angemessen kräftig und die Produktion kommt sehr transparent und druckvoll rüber.
Schlecht ist anders. Und dennoch wird leider mehr kopiert als neu adaptiert. Alles hat man irgendwie schon mal gehört, meistens mit viel mehr Leidenschaft und mehr eigener Note. Genau das fehlt den Jungs aus Ankara noch gewaltig. Das Album ist grundsolide und nett zum Anhören, die großen Überraschungsmomente fehlen (noch). Für die Fans der oben genannten Bands sollte es obligatorisch sein in diese Platte rein zuhören. Und CIDESPHERE kann ich nur ermutigen mehr eigene Ideen und Charakter in ihre Kompositionen zu bringen, denn handwerklich ist alles vorhanden, um ein wirklich gutes und eigenständiges Melodic Death Metal Album zu veröffentlichen.
Ingo Holzhäuser vergibt 6 von 10 Punkten