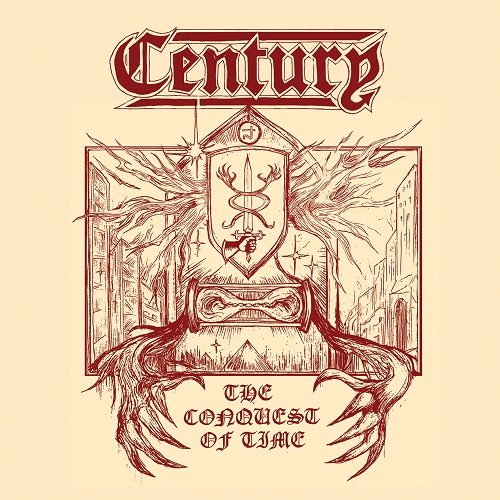 CENTURY
Titel: THE CONQUEST OF TIME
Label: No Remorse Records
Spieldauer: 36:33 Minuten
VÖ: 21. April 2023
Aus Stockholm kommt das Duo Staffan Tengnér und Leo Ekström. Die beiden Schweden gründeten 2020 ihre Band CENTURY. Dabei spielt Leo Gitarre, Bass und Drums, ebenfalls Gitarre und Bass spielt Staffan, der zusätzlich auch die Stimme von CENTURY ist. Schon im Gründungsjahr eroberten die beiden Schweden die Underground-Metal-Welt und zwar mit ihrer "Demo MMXX". Sie ließen 2022 die 7"-Single "The Fighting Eagle" folgen (der Song ist auch auf dem Album Debüt vorhanden). Die Single war der Appetizer für den am 21. April folgenden Langspieler "The Conquest Of Time", den wir für euch gehört haben.
Mit schreddernden Gitarren und harten Drums eröffnen CENTURY ihr Debütalbum "The Conquest Of Time". ´The Fighting Eagle´ wurde bereits 2022 als 7"-Single veröffentlicht und dürfte Genre-Kennern wohl bekannt sein. In etwas ruhigerem Wasser schippern ´Black Revenant´ und `Sinister Star´, ´Victim In Chains´ haut schon zu Beginn schön auf die Drums und in die Saiten, dem steht der Titeltrack ´The Conquest Of Time´ in nichts nach. Schon kurz vor der Halbzeit spürt man, dass CENTURY wissen, was sie tun und sich sauwohl fühlen mit ihrer Musik. Das bestätigen sie gleich darauf mit dem eingängigen ´Master Of Hell´, das erneut Headbanger auf den Plan ruft und zum obligatorischen "Raise your fist and yell" aufruft – nicht zu vergessen das grandiose Gitarrensolo kurz vor Ende Songs. Über ´Distant Mirror´ und ´Breakthrough´ erreichen wir ´Servants of The Iron Mask´, der mit 6:40 Minuten der Track mit der längsten Spieldauer, aber auch der abwechslungsreichste Titel ist.
Gerade schwimmen wir auf einer Welle von Epic Heavy Metal Releases, die um die Gunst ihrer Fans kämpfen, denn schließlich möchte jeder Song gehört, jedes Album und jede Band gefeiert werden. CENTURY sind eine relativ junge Formation, machen dafür aber schon sehr viel richtig. Sie bleiben über die komplette Spieldauer ihrem Konzept treu, so weiß man, was man bekommt, wenn man CENTURY auflegt und das ist geradlinigen Metal ohne Schnörkel und ohne jedweden Firlefanz. Ich hätte gerne ein paar breitbeinige Riffs gehört, auch das Schlagzeug dürfte mehr ballern, das ist aber vielleicht dem Aspekt geschuldet, dass die beiden alles alleine gemacht haben. Ich bin sehr gespannt auf die weitere Entwicklung der Jungs und werde sie im Auge behalten.
Tobi Stahl vergibt 7,5 von 10 Punkten