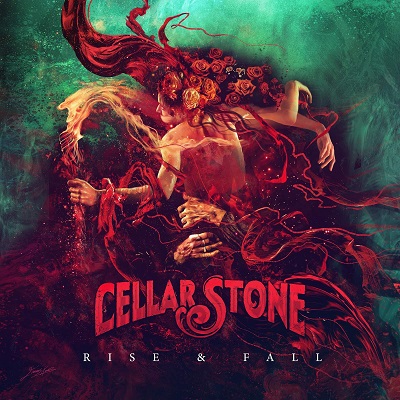 CELLAR STONE
Titel: RISE & FALL
Label: ROCK OF ANGELS RECORDS/SOULFOOD
Spieldauer: 49:12 Minuten
VÖ: 01. Juli 2022
"Rise & Fall" markiert das Zweitwerk der griechischen Heavy Rocker CELLAR STONE und damit den direkten Nachfolger des 2020er Debüts "One Fine Day". Die elf neuen Tracks bieten erneut Hardrock mit fetter Produktion und massiven Riffs sowie teilweise progressiven, teilweise modernen Einsprengseln.
Das Folgende lässt den Hörer ein wenig zwiegespalten zurück. Zum einen wissen einige Songs, die ein wenig dunkel-bedrohliche Stimmung und die starken Texte, welche Wut, Frustration und Hilflosigkeit während der weltweiten Pandemie in emotionale Worte packen, zu gefallen.
Zum anderen sind die Stücke doch ein wenig gleichförmig und wenig abwechslungsreich und inspiriert ausgefallen. Interessant wird es vor allem, wenn besondere Elemente, ein Gastbeitrag oder weitere Nuancen überraschen oder beeindrucken können.
So kommt es nicht von ungefähr, dass das stimmungsvolle, mit einem energischen Gitarrensolo von Black Stone Cherry Frontmann/Gitarrist Chris Robertson veredelte `War We Can Win´ zu den besten Tracks gehört. Auch die eingängige, atmosphärische Auskopplung `Time To Fall´ der Ohrwurm `To The Core´ und das dynamische, ebenfalls mit einem packenden Solo versehene `Through My Veins´ wissen zu gefallen.
Gleiches gilt für die gefühlvoll-hymnische Ballade `Save Me´ und den modern-massiven Titelsong. Insgesamt aber ist ein Großteil der Stücke doch zu sehr im gleichen Trott verhaftet und zu oft im selben Tempo angesiedelt. Zudem sind diese mit sehr ähnlichen Vocals und wenig aufregendem Songwriting versehen und Unerwartetes oder Originelles passiert eher selten.
Michael Gaspar vergibt 6,5 von 10 Punkten