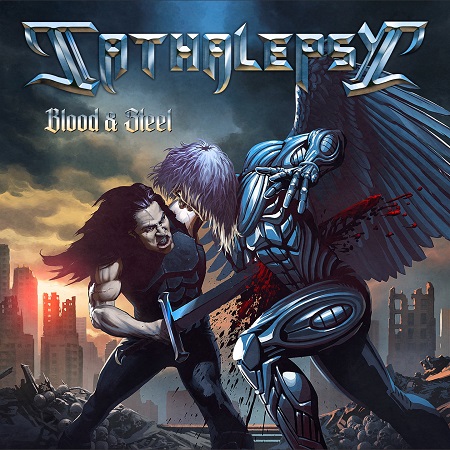 CATHALEPSY
Titel: BLOOD AND STEEL
Label: ROCK OF ANGELS RECORDS
Spieldauer: 41:09 Minuten
VÖ: 14. Juli 2023
Das chilenische Heavy Metal Duo CATHALEPSY präsentiert sein Zweitwerk "Blood and Steel". Nach Auflösung der Band 2010 und der Reunion im Jahr 2019 bilden Komponist, Songwriter und Drummer Luigi Ansaldi und Fabian Valdés (Gitarre und Bass) wieder das Rückgrat des Projekts und scharen erstklassige Gastmusiker um sich, um die Vision eines genreübergreifenden, kraftvollen Heavy Metal mit Herz zum Leben zu erwecken.
Unter ihnen die Sänger Tim "Ripper" Owens (KK Priest, ex-Judas Priest), Ralf Scheepers (Primal Fear), Harry Conklin (Jag Panzer, ex-Riot), Herbie Langhans (Avantasia, Firewind), Frank Beck (Gamma Ray), Giacomo Voli (Rhapsody of Fire), Ivan Giannini (Vision Divine), Thiago Bianchi (Shaman, Noturnall) und David Readman (PinkCream 69, Voodoo Circle).
Dazu die Sologitarristen Joel Hoekstra (Whitesnake), Roland Grapow (Masterplan, ex-Helloween), Ross The Boss (ex-Manowar), Glen Drover (ex-Megadeath, King Diamond, Testament), Pontus Norgren (Hammerfall), Thobbe Englund (ex-Sabaton), Jens Ludwig (Edguy), Danilo Bar (WhiteSkull), Sigurd Fylling (Legend Of Valley Doom) sowie die Keyboarder Scott Warren (Dio, Heaven and Hell, Black Sabbath) und Oliver Palotai (Kamelot).
So entstanden acht neue Tracks zwischen Heavy, Trad und Power Metal, die manchmal fast den Eindruck vermitteln, hier wurde nach dem Motto "gut kopiert ist halb gewonnen" gearbeitet. Doch die kleinen, aber feinen stilistischen Unterschiede und die diversen Vokalisten machen das Ganze eben auch enorm spannend und abwechslungsreich.
Die Metal-Hymne `We Are the Warriors´ macht den packenden Anfang, bevor der Text des folgenden `Heavy Metal Faith´ zwar vor Klischess förmlich trieft, aber es sich bei dem Song auch um einen veritablen Power Metal Ohrwurm vor dem Herrn handelt, den ich seit Tagen nicht mehr aus dem Kopf bekomme.
Die Vorabsingle `Hammer Heart´ wird von Ralf Scheepers (Primal Fear) erfreulich rauh und roh dargeboten, während Roland Grapow (Masterplan, ex-Helloween) und Thobbe Englund (ex-Sabaton) brillante Soli beisteuern. Der grandiose Titelsong ist dann purer, glänzender Edelstahl, bevor `Rockstar´ eher hardrockig und melodisch daherkommt.
Bei `The Final Battle´ geht es im Folgenden ultraschnell und heroisch-hymnisch zu Werke, bevor der `Song of Ice and Fire´ als epischer, facettenreicher und eingängiger Achtminüter überrascht.
Der Sinn der abschließenden "Orchestral Version" des Tracks `Hammer Heart´ erschließt sich zwar nicht wirklich, aber auch so findet sich genug Qualität auf dieser kurzweiligen, variablen und mitreißenden, wenn auch nicht wirklich eigenständigen oder besonders originellen Scheibe, die vor allem von einigen starken Songs, der perfekten musikalischen Umsetzung und ihrer formidablen Gästeliste lebt.
Michael Gaspar vergibt 7,5 von 10 Punkten