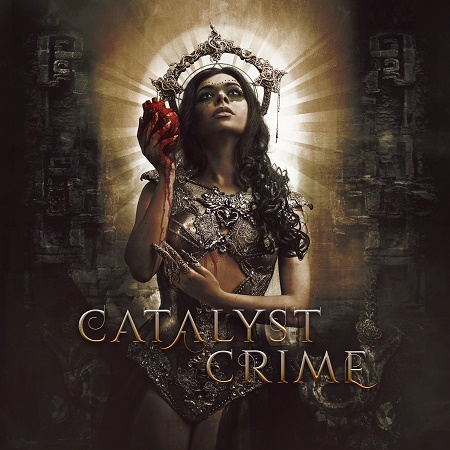 CATALYST CRIME
Titel: CATALYST CRIME
Spieldauer: 50:35 Minuten
CATALYST CRIME ist eine international besetzte Cinematic Symphonic Metalband, die 2017 als Projekt zwischen Xandria-Drummer Gerit Lamm und der US-amerikanischen Sängerin Zoe Marie Federoff begann. Das selbstbetitelte Debütalbum ist ein echter Grower, der erst beim wiederholten Durchhören seine ganze Wucht und Faszination entfaltet.
Das dynamische Sextett würzt seinen symphonischen Sound mit Spurenelementen aus Death und Prog Metal, aber vor allem überzeugen die glockenhelle Stimme der Frontfrau sowie fesselnde Arrangements und gute Refrains.
Der Übersong der Platte ist definitiv 'Comdemn Me To Chaos' mit seiner wundervollen Melodie, dem grandiosen Chorus und gelungenen Pianoparts, obwohl ich mir eigentlich mehr Songs der Sorte 'Nowhere Near Dead Yet' gewünscht hätte. Darin knallt und kracht es an allen Ecken und Enden und wimmelt von üppigen Orchestrierungen und symphonischen Elementen, dass es eine wahre Wonne ist.
Aber auch weniger komplexe Tracks wie das eingängige 'Twice Upon A Time' oder das tolle, erneut mit einem fantastischen Refrain ausgestattete 'Not Even Once' können glänzen. Das treibende 'Break Even' wartet mit Hammer-Chorus und langem Solo auf, bevor auch die Ballade 'Chasing The Ghost' mit Flötentönen und einem gefühlvollen Solo besticht.
Da macht es auch nichts mehr, dass 'Cognitive Dissonance', ein Duett mit Jake E (Amaranthe), ein wenig ins musicalhaft belanglose abdriftet. "Catalyst Crime" ist ein bockstarkes Debüt einer äußerst talentierten, jungen Band. Unbedingt reinhören!
Michael Gaspar vergibt 8 von 10 Punkten