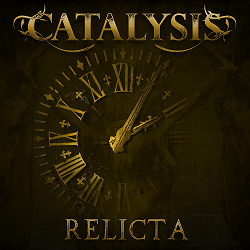 CATALYSIS
Titel: RELICTA (EP)
Label: INDEPENDENT RELEASE
Spieldauer: 22:15 Minuten
Das Groove-/Thrash Metal Quartett CATALYSIS aus Dundee (Schottland) liefert nach zwei EPs und dem Longplay-Debüt "Connection Lost" (2020) einen weiteren Kurzplayer ab. Nach wie vor setzen sie dabei auf unerbittlichen Thrash mit aggressiven Vocals gepaart mit stampfendem, treibendem Groove.
Doch dabei bleibt es dieses Mal nicht, denn CATALYSIS haben ihr Songwriting weiterentwickelt und ihren Stil um einige melodische Elemente erweitert. Diese werden beispielsweise im grandiosen Opener 'A New Way To Die' in Form von melodischen Vocals und Gitarren-Leads hörbar, die im gelungenen Kontrast zum ansonsten mächtigen Sound stehen.
Beim folgenden 'Don't Look Down' gesellen sich neben mehrstimmigen Gesängen auch noch Rap-/Hardcore-artige Vocals hinzu, so dass man glauben könnte, es mit drei oder vier verschiedenen Sängern zu tun zu haben. Beim herausragenden 'Laid To Waste' gibt es dann klangvolle Backing-Vocals und eine Art Chor-Begleitung. Zudem werden die meisten Tracks mit schnellen, virtuosen Gitarren-Soli angereichert.
Aber das Wichtigste ist, dass alle Zutaten zu ein paar hochklassigen Songs vermengt werden, die "Relicta" zu einer spannenden, höchst ansprechenden (Kurz-)Platte machen, in die Fans von Machine Head, Sylosis, Chimaira, Gojira und The Black Dahlia Murder ruhig mal reinhören und der noch jungen Band eine Chance geben sollten.
Michael Gaspar vergibt 7,5 von 10 Punkten