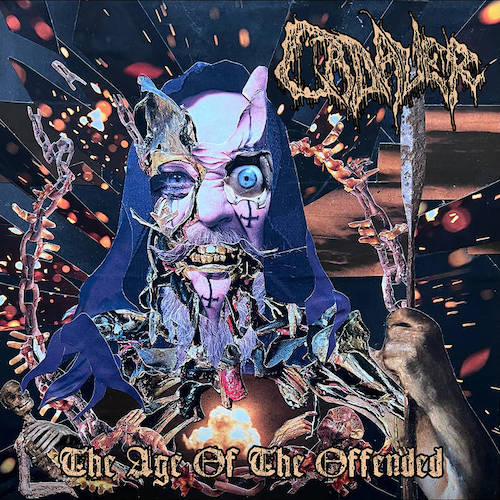 CADAVER
Titel: THE AGE OF THE OFFENDED
Spieldauer: 42:36 Minuten
VÖ: 21. Juli 2023
Mit Edder & Bile konnten mich die alten Recken von CADAVER Ende 2020 so richtig abholen. Anders Odden, Gründungsmitglied und Mastermind der norwegischen Death Metal Institution, zählt vermutlich zu den wahren Urgesteinen der gesamten Extremmetalszene. Heuer servieren uns CADAVER mit "The Age of the Offended" ihren neuesten Output.
Ein leicht verzerrtes Instrumental mit Saxophon (!) eröffnet die Scheibe bevor 'Postapocalyptic Grinding' die Marschrichtung einläutet. Am Schlagwerk unverkennbar agierend der Wundertrommler Dirk Verbeuren (u.a. Megadeth). 'Scum of the Earth' ist recht punkig mit Blastbeatpassagen, der Titeltrack kommt dann eher kontrollierter aus den Boxen. 'The Shrink' setzt  Industrialflair frei ,allerdings können CADAVER hier nicht an ihr Grind/Industrial Massaker der Discipline aus dem Jahre 2001 anknüpfen. 'The Sicker, The Better' kommt dann nochmal ganz gut, der Rest der Songs verbleibt leider weit im Mittelmaß. Irgendwie packen die Kompositionen aus der Feder von Anders Odden nicht wie zuletzt.
Insgesamt doch eine durchwachsene Angelegenheit. Der Vorgänger war meines Erachtens wesentlich stärker. Handwerklich gibt es hier keinerlei Beanstandungen, allerdings sind die Songs doch irgendwie nicht wirklich nachhaltig packend, von den oben genannten mal abgesehen.
Ingo Holzhäuser vergibt 6,5 von 10 Punkten