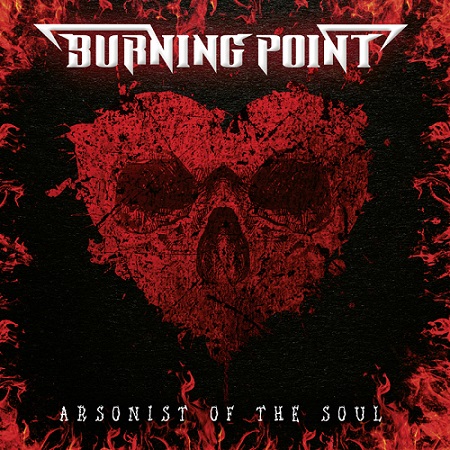 BURNING POINT
Titel: ARSONIST OF THE SOUL
Spieldauer: 48:51 Minuten
In Personalunion ist Pete Ahonen Mastermind, Gitarrist, Hauptsongwriter und ehemaliger Sänger der finnischen Metalband BURNING POINT. Nachdem Nitte Valo (Ex- Battle Beast) einige Jahre als Frontmann fungierte, übernimmt auf dem neuen Longplayer "Arsonist Of The Soul" nun der stimmgewaltige Italiener Luca Sturniolo das Mikro.
Der melodische Power Metal des Sechsers ist zumeist im Uptempo angesiedelt und von der eher eingängigen Sorte. Mit dem Doppelpack 'Blast In The Past' und 'Rules The Universe' gelingt ein sehr guter Einstieg in die neue Scheibe. Dieses Niveau kann allerdings im Folgenden nicht gehalten werden. Nicht alle Refrains wollen gleichermaßen zünden, einige Tracks lassen einen relativ kalt und wirken irgendwie umständlich und unnötig kompliziert. Hier sei der Titelsong als Beispiel angeführt.
Gegenbeispiele und somit gelungene Kompositionen dagegen sind das dunkle, majestätische 'Persona Non Grata', das eingängige 'Running In The Darkness' und das eher schleppend-hymnische 'Calling'. Mit gewissen Abstrichen zu gefallen wissen ebenso das ultraschnelle 'Off The Radar' und das abschließende an Stratovarius erinnernde 'Eternal Life', die allerdings beide die Grenzen des Organs von Frontmann Strurnilio ausloten und manchmal sogar überschreiten.
Unter dem Strich somit nur eine durchschnittliche bis ordentliche Power-Metal-Scheibe, die den diesjährigen Glanztaten diverser Genrekollegen leider nicht das Wasser reichen kann.
Michael Gaspar vergibt 6,5 von 10 Punkten