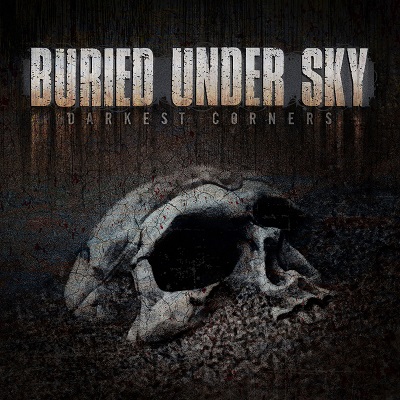 BURIED UNDER SKY
Titel: DARKEST CORNERS (EP)
Spieldauer: 26:51 Minuten
VÖ: 19. August 2022
BURIED UNDER SKY ist ein Melodic Metal/Rock Projekt aus Mitgliedern der Connecticuter 90er Hardcore Szene mit einer Vorliebe für Melodien und Hardrock Rhythmen oder wie die Band es selbst ausdrückt: "four middle-aged guys with day jobs making the metal they want to hear".
Der Vierer legt den Fünf-Tracker "Darkest Corners" mit einem wirklich ungewöhnlichen und äußerst eigenständigen Soundmix vor. Die Songs verknüpfen Dark, Electronic und Melodic Metal Elemente und verfügen über eine Menge Power, Abwechslung und Dynamik.
Der Opener `Extinguishing The Stars´ klingt wie ein Hybrid aus Prong Riffs mit US Power Metal á la beispielsweise Nevermore, garniert mit etwas Evergrey Melodik und Dunkelheit.
Der Titelsong quillt dann zunächst quälend langsam aus den Boxen, bevor sich aggressive Vocals und ein erneuter melodischer Refrain mit kraftvoller Riffuntermalung Bahn brechen. Das folgende `To Walk Upon Disintegration´ vereint wiederum dieses dunkle gothicartige Ambiente mit Melodie, pumpenden Rhythmen und kleinen, fast blackmetalartigen Ausbrüchen.
Eher ruhig, doomig, mit der gewohnt düsteren Atmosphäre und einem eingängigen Chorus geht es bei `Ghosts Of May´ zu Werke, bevor das flott-moderne, teilweise an Ministry erinnernde `We Eat Our Own´ einen intensiven, unterhaltsamen Kurzplayer mit einem spannenden Soundmix beschließt.
Michael Gaspar vergibt 7 von 10 Punkten