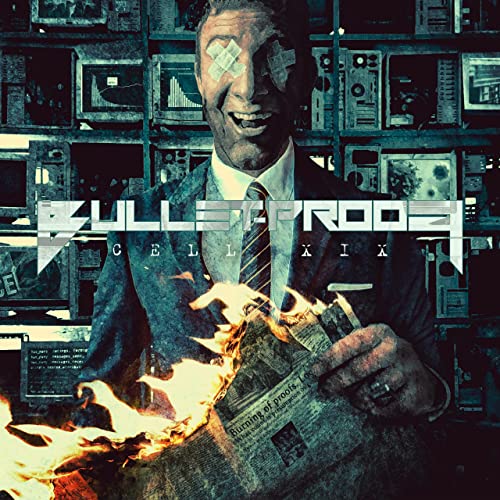 BULLET_PROOF
Titel: CELL XIX
Label: SLEAZY RIDER RECORDS
Spieldauer: 44:24 Minuten
Die slowakisch-italienische Metal Kollaboration BULLET-PROOF ist nicht zu verwechseln mit den argentinischen Bulletproöf, die erst Ende letzten Jahres eine EP heraus brachten.
Da ist die hier gemeinte Band schon etwas Veröffentlichungsfreudiger, ist doch das vorliegende "Cell XIX" betitelte Scheibchen schon der dritte Longplayer BULLET-PROOf's.
Die Mischung aus traditionellen Metal Elementen mit Thrash Metal, häufig auch als Power Thrash tituliert, steht den Jungs gut zu Gesicht. Die mittelhohen, aber dennoch rauen Vocals von Fronter Richard Hupka passen gut ins Gesamtbild und die differenzierte Produktion unterstützt die knackigen Songs der Truppe.
Erwähnenswert wären in diesem Zusammenhang das schnelle, mit einem hymnischen Refrain versehene 'Brainocide', das abwechslungsreiche, wiederum mit einem melodisch, hymnischen Refrain eingängig gestaltete 'When Truth And Trust Collapsed', der schnelle Titeltrack, das stampfende, Mid-Tempo lastige 'Cold Side' und das abwechslungsreiche 'Perception Of Reality'.
Als Schmankerl servieren uns die Vier von BULLET-PROOF noch ein Cover des Offspring Smashers 'All I Want', das hier in einer fetten Speed Metal Punk Version aus den Boxen knallt.
Fans soliden Power Thrashs' sollten zumindest rein hören, es lohnt sich.
Ludwig Lücker vergibt 8 von 10 Punkten