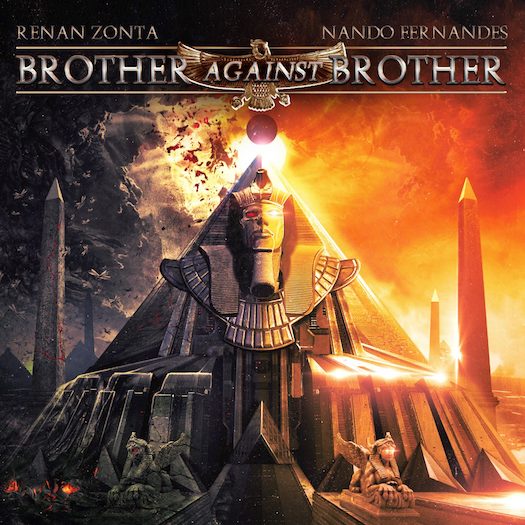 BROTHER AGAINST BROTHER
Titel: BROTHER AGAINST BROTHER
Spieldauer: 48:27 Minuten
Man nehme die zwei hochtalentierten Sänger Nando Fernandes (Sinistra) und Renan Zonta (Electric Mob), einen erfahrenen, talentierten Songwriter, Komponisten und Produzenten (Allessandro Del Vecchio) sowie zwei weitere Instrumentalisten (Jonas Hornqvist, Michele Sanna) und fertig ist das neue, brillante und aufregende Power-/Melodic-Metal-Projekt. So oder so ähnlich dürfte die potenzielle Erfolgsformel für BROTHER AGAINST BROTHER und ihr gleichnamiges Debütalbum gelautet haben. Dabei gibt es an den Songs mit ihren schicken Melodien, Chören und Soli und an den beiden atemberaubenden, brasilianischen Vokalisten musikalisch wenig bis nichts auszusetzen.
Zur Verdeutlichung dieser These mögen als Anspieltipps die drei Vorabsingles 'Deadly Sins', 'Demons In My Head' und 'Valley Of The Kings' dienen. Letzteres nimmt mich ähnlich wie 'Haunted Heart' mit äußerst gelungenen Keyboard-Sounds und eingängigen Refrains durchaus für sich ein. Mit 'In The Name Of Life' ist auch die emotionale Quoten-/Pflicht-Power-Ballade auf dem Silberling vertreten, aber auch schnell wieder vergessen. Mein Favorit ist das orientalisch angehauchte 'City Of Gold' mit seinem verhältnismäßig harten Riffing, da es sich erfreulicherweise ein wenig vom übrigen Sound unterscheidet.
Womit wir gleich bei einem der wesentlichen Kritikpunkten angelangt sind. Zum einen gleichen sich die elf Kompositionen doch sehr und selten zünden Melodien und/oder Refrains so richtig. Zum anderen sind auch die beiden Stimmen relativ ähnlich (auch in Sachen Theatralik). Sie harmonieren zwar gut, beinahe schon zu gut in meinen Augen, denn Spannung oder Reibung, die ja bekanntlich Wärme erzeugt, kommt selten auf. Daher und nicht zuletzt durch die sterile, glattgebügelte Produktion fehlt es außerdem an den berühmten Ecken und Kanten. Ich vermisse die knapp fünfzig Minuten über vor allem sowas wie Eigenständigkeit, Herzblut und Seele. Aber vor allem einen so richtig geilen Song, der mir ein breites Grinsen oder eine ausgeprägte Gänsehaut verpassen könnte.
Michael Gaspar vergibt 6,5 von 10 Punkten