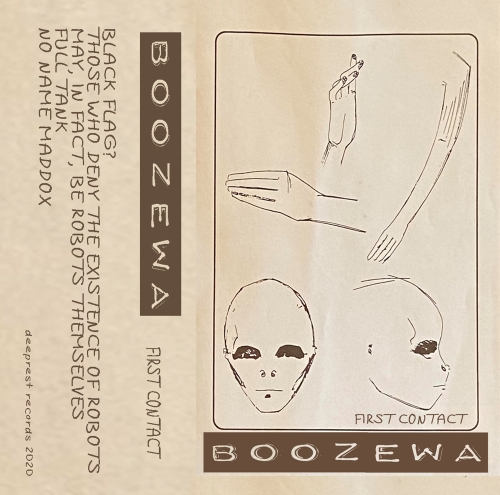 BOOZEWA
Titel: FIRST CONTACT
Spieldauer: 14:53 Minuten
Muss ich das jetzt verstehen? Nein, das muss ich nicht verstehen!
Drei Musiker aus dem verschlafenen West Chester, Pennsylvania, nebenher auch in der semibekannten Sludge-Doom-Band Backwoods Payback tätig oder tätig gewesen, kommen während der Pandemie durch eine Mischung aus hochprozentigem aber niedrigpreisigem Alkoholmissbrauch und Langeweile auf die glorreiche Idee, eine neue Band mit dem Namen BOOZEWA zu gründen. Nicht nur das, man hat ja sonst nichts zu tun, also kann man auch gleich ein Demo aufnehmen. Aber voll fucking old-school, DIY as fuck auf nem Tascam 4-Spur Rekorder aus den 90ern.
Die Songs, namentlich 'Black Flag', 'Those Who Deny The Existence Of Robots, May In Fact, Be Robots Themselves', 'Full Tank' und 'No Name Maddox' sind schnell geschrieben, bestehen doch drei der Tracks nur aus einem Riff und einer kriegt zwei spendiert. Alles äußerst simpel gestrickte Doom-Riffs, die wohl durch das Repetitive und die Rohheit der Aufnahme irgendeine positive Wirkung beim Zuhörer erzielen sollen. Und mit Rohheit meine ich mumpfigen, undifferenzierten Kacksound.
Und da sind wir bei meiner Eingangsfrage. Gibt es eine Szene im Doom-Sludge-Genre, ähnlich dem Black-Metal, wo schlecht-produzierte Demotapes mit noch schlechter gekrakelten Covern das trueste überhaupt und die einzig akzeptable Veröffentlichungsart ist?
Sollte es also tatsächlich so eine Szene geben, und ein Anhänger dieser Spielart liest das hier: BOOZEWAs 'First Contact' ist nur für Dich. Bewerten tu ich das hier nicht, dafür bin ich der Falsche.
Dirk Eckhard vergibt keine Bewertung