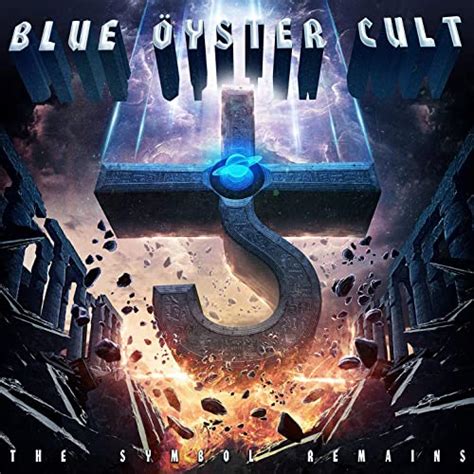 BLUE ÖYSTER CULT
Titel: THE SYMBOL REMAINS
Spieldauer: 61:21 Minuten
'(Don't Fear) The Reaper' vom 1976er Album "Agents of Fortune" und 'Godzilla' kennen wohl noch die meisten "alten Säcke", dabei fing die Geschichte von BÖC schon in den sechziger Jahren an. In den letzten Jahrzehnten schwankte dann der Bekanntheitsgrad zwischen Weltstar und Underground, die Musik zwischen Psychodelic und Hard Rock oder besser AOR und seit 19 Jahren gab es kein neues Studioalbum der Ostküstenrocker mehr.
Vor einer Woche erschien nun das fünfzehnte Werk: 'The Symbol Remains'. Das Überraschende ist, dass man den Songs das Alter der Band nun wirklich nicht anhört. Irgendwo zwischen Melodic, Mainstream Rock und metallischen Strukturen rocken die vierzehn (!) Tracks der Dinosaurier. Startet der Opener 'That Was Me' noch mit 70er Sound kommen im Verlauf des Albums alle Facetten der BÖC Geschichte zum Zuge. 'Box In My Head' hat zunächst etwas von Thin Lizzy, bevor er zu einem modern wirkenden gute Laune Radio-Rocksong mit Summer Feeling wird. 'Tainted Blood' ist eine dieser, vom Blues beeinflusten 80er Jahre Power-Balladen, die sich in jedem Stadion gut machen. Honkey-Tonk artigen Rock'n Roll, dessen Ursprünge klar im klar in den 60ern liegen, gibt es bei 'Nightmare Epiphany'. Dazu kommt noch etwas Sothern Hard Rock ('The Machine') und sogar klare Metal Riffs wie bei 'Stand And Fight'
Also Abwechslung gibt es mehr als genug und die Songs sind auf ihre unterschiedliche Art catchy. Ehrlich gesagt, bin ich positiv überrascht, denn diese enorme Bandbreite und Frische hätte ich den altehrwürdigen BÖC nun wirklich nicht zugetraut. Hut ab.
Sven Bernhardt vergibt 7 von 10 Punkten