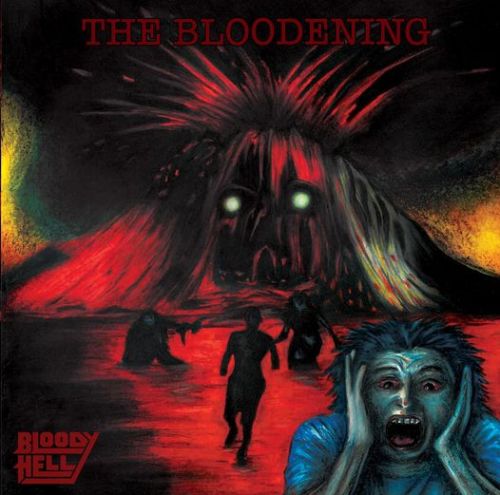 BLOODY HELL
Titel: THE BLOODENING
Spieldauer: 57:10 Minuten
BLOODY HELL aus Helsinki reihen sich in ein schier unerschöpfliches skandinavisches Reservoir an traditionellen Metal Kapellen ein. Und dies heisst von meiner Sicht aus mit Sicherheit nichts Negatives. Fernab aller Trends oder gar Innovationen zocken die vier Jungs grundsoliden, ehrlichen Metal, verbunden mit den üblichen Standard Texten über Alkohol, Metal und den Deibel.
Dies ist zwar nix für Fans progressiver Klänge, aber warum das Rad neu erfinden, wenn man mit Enthusiasmus und Spielfreude Tracks wie den Up Tempo Rocker 'Hangover Rider' mit seinen Punk Vibes, die Up Tempo Banger 'In The Night We Burn' und 'Burn Witch Burn', den Mid Tempo Banger 'What The Hell' und das nach Bass'n Drums Beginn ordentlich rockende 'Midnight Man' in Petto hat. Mir persönlich am besten gefällt allerdings der treibende Motör Rocker 'Bite'.
Ich persönlich hätte zwar die Scheibe etwas gekürzt, um mehr Biss dahinter zu bekommen – gerade der über sieben minütige Rausschmeisser 'Kiasma (The Museum Of Modern Art)' ist meiner Meinung nach über -, und der Fronter ist auch nicht wirklich das Gelbe vom Ei, aber dass ändert nichts daran, dass BLOODY HELL eine solide Metal Scheibe eingetütet haben; vom Coverartwork mal ganz abgesehen…..
Ludwig Lücker vergibt 7 von 10 Punkten