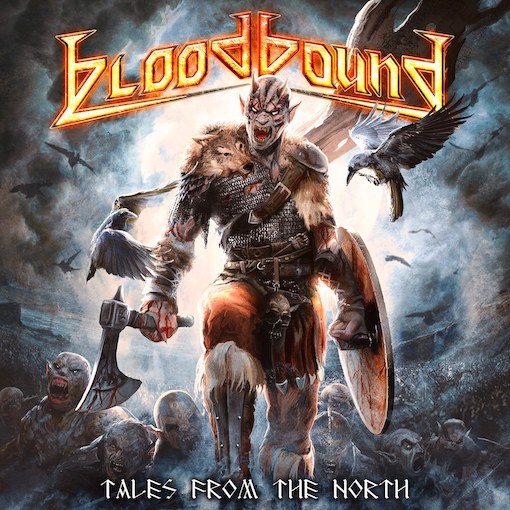 BLOODBOUND
Titel: TALES FROM THE NORTH
Spieldauer: 46:41 Minuten
VÖ: 07. Juli 2023
Mit dem Konzeptalbum "Tales From The North" über die Wikingerzeit und den "dunklen, kalten und unwirtlichen" Norden liefern die schwedischen Power Metaller BLOODBOUND ihren bereits zehnten Longplayer und den Nachfolger zum bockstarken "Creatures Of The Dark Realm" (2021) Vorgänger.
Mit den beiden Gründungsmitgliedern Tomas Olsson (Leadgitarre) und Fredrik Bergh (Keyboards)  sowie Leadsänger Patrik Selleby, Rhythmusgitarrist Henrik Olsson, Bassist Anders Broman und 2017 mit dem Einstieg von Schlagzeuger Daniel Hansfeldt hat sich ein solides, festes Lineup entwickelt.
Produziert wurde "Tales From The North" von BLOODBOUND selbst, gemischt und gemastert hat Jonas Kjellgren (Amorphis, Overkill, Sabaton) in den schwedischen 'Black Lounge Studios', das Cover-Artwork stammt von Péter Sallai (u.a. HammerFall, Powerwolf).
Die gute Nachricht zuerst: der Sechser schafft es nach wie vor pfeilschnelle Power Metal Hymnen wie den Opener und Titelsong, die Vorabsingle `Odin´s Prayer´ das packende `Stake My Claims´ und das abschließende `1066´ zu kreieren.
Jedoch kommen auch diese für meine Ohren nicht an vergangene Großtaten wie `Ever Burning Flame´, 'Kill Or Be Killed', 'When Fate Is Calling' oder 'March Into War' heran. Hatte ich die Band im Vorgänger Review noch für ihre Eigenständigkeit, wenig Wiederholungen und den maßvollen Einsatz der Keyboards gelobt, so sind nun die Parallelen zu gewissenen schwedischen Kollegen offensichtlich und so wirklich originell und abwechslungsreich ist das Ganze auch nicht gerade, dafür so üppig mit Kitsch und Synthieglasur verziert, dass der Blutzuckerspiegel schon vom Zuhören in bedrohliche Höhen steigt.
Auch die vermehrt integrierten Folkelemente und nordischen Volksmusikinstrumente (beispielhaft in `The Raven´s Cry´) reichen da nicht aus, könnten aber ein Schritt in die richtige Richtung sein, wenn man diesen einen schaurigen, schlageresken Totalausfall wie `Drink With The Gods` gegenüber stellt.
Michael Gaspar vergibt 7 von 10 Punkten