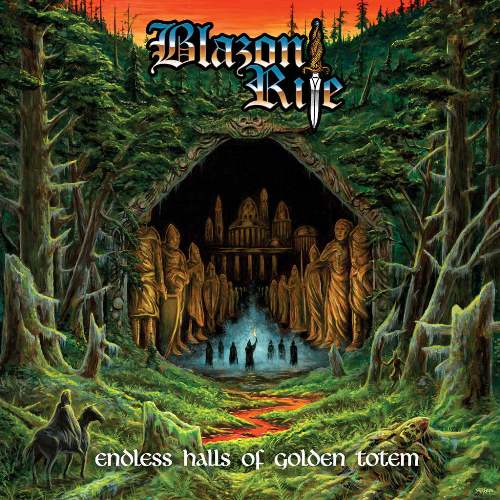 BLAZON RITE
Titel: ENDLESS HALLS OF GOLDEN TOTEM
Spieldauer: 38:08 Minuten
Die letztjährige allererste Veröffentlichung der Truppe aus Philadelphia, eine EP namens "Dulce Bellum Inexerptis", habe ich mit den Worten bedacht, dass ich gespannt auf das Long Distance Debüt warte.
Nun denn, da haben BLAZON RITE aber alles getan, damit diese Wartezeit für mich nicht zu lang wird, denn heuer schieben sie schon ihr Longplayer Debüt nach….und dies, ohne unnötig Tracks der EP noch einmal zu verwenden.
So gibt es acht neue BLAZON RITE Tracks zu hören, die dem grundlegenden Weg der EP glücklicherweise folgen. Heavy Metal im Stile der New Wave of Traditional Heavy Metal gibt es hier auf die Ohren, versehen mit einem fetten Schuss Epic und ner kleinen Portion Kauzigkeit…als wäre es nur für mich gemacht.
So kann ich euch hier gleich die kompletten ersten vier Tracks ans metallische Herz legen. Der episch, hymnische Opener 'Legend Of Time And Eidolon', welcher tempomäßig im Verlauf anzieht, das fett stampfende und dann an Speed gewinnende 'Put Down Your Steel (Only For The Night)', das hymnische stets tempi-mäßig wechselnde 'The Executioner's Woe' und der stampfende Banger 'Endless Halls Of Golden Toem' mit seiner hymnischen Vocal Line sind allerbestes Banger Futter für die Meute der K.I.T. und HOA Gänger. Auch der Mid Tempo Banger 'Consumed By Glory Light' sei hier noch mal exemplarisch erwähnt. Aber auch die weiteren drei Tracks fallen nicht wirklich ab.
Die Produktion ist okay, der variable Gesang Johnny Halladay's im positiven Sinne eigenständig und der vorhandene Synth glücklicherweise nur unterstützend eingesetzt. Epic Fans und Freunde traditionellen Stahles sollten sich die BLAZON RITE definitiv einverleiben.
Ludwig Lücker vergibt 9 von 10 Punkten