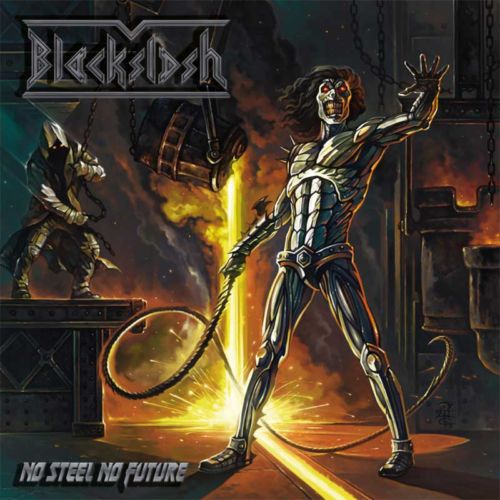 BLACKSLASH
Titel: NO STEEL NO FUTURE
Spieldauer: 49:42 Minuten
VÖ: 11. März 2022
Die Schwarzwälder Kapelle BLACKSLASH ist auch nach dem mittlerweile vierten Album eine eigentlich noch relativ junge Band – zumindest aus meiner betagten Sicht -.
Dennoch ist ihre Mucke ganz tief in der Historie des Metals verwurzelt und ohne einen Querverweis zwischen dem aktuellen Dreher "No Steel No Future" und der allseits bekannten New Wave of British Heavy Metal – Schwarzwald hin oder her – verlässt mir hier keiner das Haus.
BLACKSLASH kopieren hier niemand bis aufs i-Tüpfelchen, schaffen es aber gekonnt, die Energie, Spannung, Härte aber auch Melodiösität der NWoBHM ins heutige Jahrtausend zu transportieren.
Dies kann der geneigte Hörer jederzeit selbst bei Tracks wie dem melodischen Mid Tempo Stampfer 'The power', dem nach hymnischen Einstieg rhythmischen 'Under The Spell', dem schnellen und klasse betitelten Titeltrack 'No Steel No Future', dem erst ruhigen dann pumpenden 'Hammertime' und den beiden hymnischen 'Bombers' und 'Demons Of Life' selbst nach hören.
Wer mit der NWoBHM groß geworden ist, der kann bei BLACKSLASH ohne Zögern zugreifen.
Ludwig Lücker vergibt 8,5 von 10 Punkten