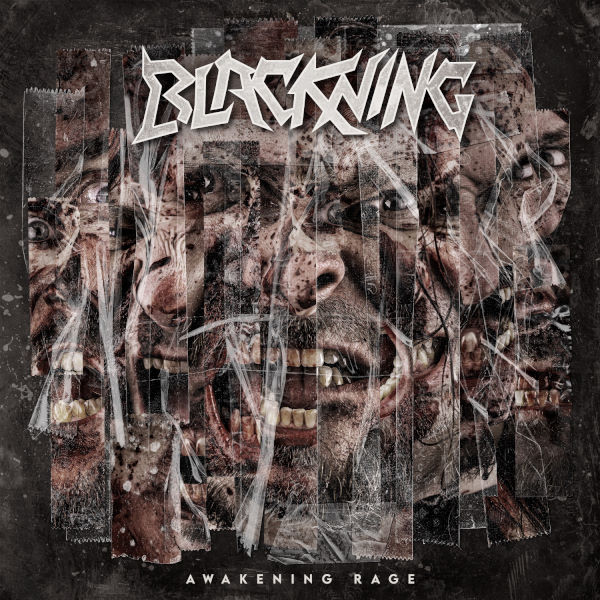 BLACKNING
Titel: AWAKENING RAGE
Label: BLACK LION RECORDS
Spieldauer: 41:54 Minuten
VÖ: 28. Juli 2023
Im zehnten Jahr ihres Bestehens kredenzen uns die Brasilianer BLACKNING (nein, da fehlt kein E) ihr drittes Studioalbum "Awakening Rage". Und wer hätte es gedacht? BLACKNING spielen rabiaten, mittlerweile fast typisch (süd-)amerikanischen Thrash, der musikalisch (durchaus nicht im negativen Sinne) an "übliche Verdächtige" wie alte Sepultura, Slayer, Exodus, Kreator etc. erinnert, songtechnisch aber auch nicht allzu sehr abkupfert und teilweise auch etwas "moderner" klingt.
Das heißt, BLACKNING erfinden den Thrash Metal sicher nicht neu, liefern mit "Awakening Rage" aber einmal mehr ein kompromissloses, handwerklich überdurchschnittliches und gut produziertes Brett ab. Qualitativ befindet sich das Quartett aus Sao Paolo damit in bester Gesellschaft mit Bands wie ihren Landsleuten von Violator, den Chilenen Nuclear, den Kolumbianern Revenge oder auch Angelus Apatrida oder den Suicidal Angels.
Als Anspieltipps geben die bereits veröffentlichten Videos eigentlich schon eine perfekte Übersicht über Stil und Qualität von "Awakening Rage":
Ansonsten kommen vor allem das groovige 'Lambs To The Slaughter" oder das schleppend-stampfige 'Insanity To Power' noch richtig gut. Dahingegen hauen Songs wie der Opener 'Violate', 'Vengeance Is Mine' und 'Unnamed Reality' zwar auch gut auf die Fresse, kommen imho aber irgendwie nicht so richtig auf den Punkt.
Im Vergleich mit den charmant-bolzigen Vorgängern "Order Of Chaos" und "ALieNation" haben BLACKNING song- wie auch produktionstechnisch mit "Awakening Rage" definitiv einen großen Sprung nach vorne – quasi von der vierten knapp in die zweite Liga – gemacht. (Oldschool-)Thrash-Fans sollten unbedingt mal reinhören.
Aber man sollte auch realistisch sein: In Sachen "Hitpotenzial" und "Wiedererkennungswert" ist  auch "Awakening Rage" immer noch ein fettes Stück von der Champions League entfernt. Ich drücke die Daumen für das nächste Album- denn in dieser Hinsicht ist Potenzial für Größeres ist definitiv vorhanden.
Joe Nollek vergibt 7 von 10 Punkten