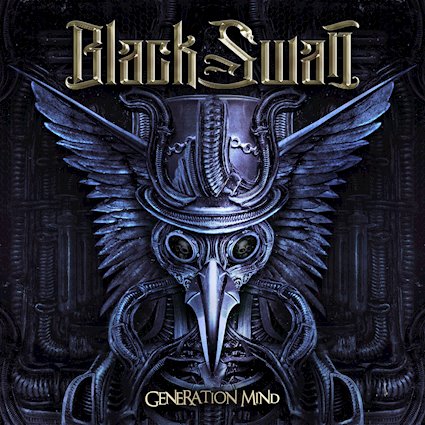 BLACK SWAN
Titel: GENERATION MIND
Spieldauer: 55:27 Minuten
VÖ: 08. April 2022
Sänger Robin McAuley (McAuley Schenker Group), Gitarrist Reb Beach (Winger, Whitesnake), Bassist Jeff Pilson (Foreigner, The End Machine, ex-Dokken) und Drummer Matt Starr (Ace Frehley, Mr. Big), bilden die irisch-amerikanische Hardrock Supergroup BLACK SWAN und legen zwei Jahre nach dem gemeinsamen Debüt "Shake The World" ihren Studiozweitling "Generation Mind" vor.
Dieser bietet sowohl deftigen Melodic Metal als auch eingängigen AOR/Hardrock und gefühlvolle (Power-)Balladen. Songs wie der Vorabsingle-Ohrwurm und Titeltrack `Generation Mind` und die gelungene Ballade `How Do You Feel` machen Bon Jovi Konkurrenz, während härtere, treibende Songs mit fesselnden Soli wie `Eagles Fly`, `See You Cry´ und `Miracle` noch besser zu gefallen wissen.
Gleiches gilt für die grandiose Hymne `Long Way Down`, das fantastische `Crown` mit seinem pumpenden Gitarrensolo und den genialen Rausschmeißer `I Will Follow`.
BLACK SWAN sind zwar eine "zusammengewürfelte" Allstartruppe wie viele andere, verfügen aber über enormes musikalisches Können und eine Riesen-Erfahrung und haben eine spür- und hörbare Einheit gebildet, ein Bandfeeling entwickelt und einen unverkennbaren Melodic Rock Signature-Sound für sich gefunden und weiterentwickelt.
"Generation Mind" ist zeitgemäß, frisch, melodisch und heavy, verkörpert die beschriebene eigene musikalische Identität des Vierers perfekt und verfügt über ausnahmslos sehr gute Songs und eine großartige Gesangsleistung.
Michael Gaspar vergibt 8,5 von 10 Punkten