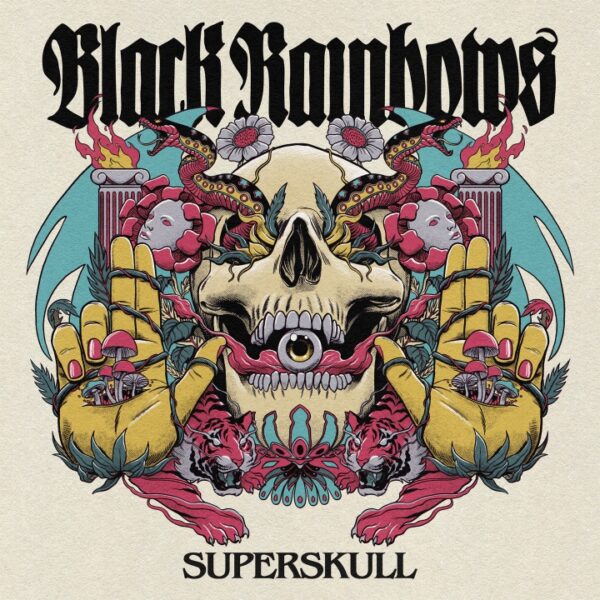 BLACK RAINBOWS
Titel: SUPERSKULL
Label: HEAVY PSYCH SOUNDS
Spieldauer: 59:00 Minuten
VÖ: 09. Juni 2023
Achtung, die Römer kommen!
Die italienischen BLACK RAINBOWS veröffentlichen am 9. Juni 2023 ihr neuntes Studioalbum (wie passend) mit dem hübschen Namen "Superskull". Und es stonert gewaltig meine Damen und Herren! Zugegeben, Wiederholungen muss man mögen und einen gewissen Hang zur Schwere muss man besitzen wenn man diesen Stil mag. Trotzdem ist dieses Album auch mal wieder typisch psychedelisch rockig. Die BLACK RAINBOWS sind inzwischen so etabliert das sie wissen was sie tun und was funktioniert. Es erwarten einen hier 59 Minuten mit allem was das Stoner Herz begehrt – nur eben stellenweise ein bisschen flotter. `Megalomania` oder `Kings Snake` erinnern mich ein wenig an die Villagers of Ioannina City, bei `Desert Sun` glaube ich, dass mir da etwas Black Sabbath entgegen wabert.
Sänger Gabriele Fiori, Bassist Edoardo Mancini und Schlagzeuger Filippo Ragazzoni (lest ihr die wohl klingenden Namen eigentlich auch mit italienischem Akzent? Wenn nicht tut das bitte) haben mit Superskull ein zwölf Titel starkes Album vorgelegt, das viel im Gepäck hat und jede Facette bedient. In meinen Ohren groovt es und wird beim Hören nicht langweilig. Eigentlich möchte man sich spontan dazu bewegen, was ja an und für sich schonmal ein gutes Zeichen ist. Tempowechsel gibt es von Song zu Song, was das ganze lebendig macht. Hier hat man sich bei der Anordnung der Lieder also scheinbar Gedanken gemacht. Mal wird es spacig wie in`Fire In The Sky` ein anderes mal herrscht gemäßigtes Tempo wie zum Beispiel im fast neun Minuten langen `The Pilgrims Son`.  Produziert hat das Wunderwerk wie bereits zuvor Fabio Sforza. Bei der Mische hat Claudio Pisi Gruer zur Seite gestanden. Das durchaus sehenswürdige Artwork hat Pedro Correa (hier bitte brasilianischen Akzent einfügen) dazu gesteuert.
Eine rundum gelungene Mischung ist "Superskull" geworden, die sicher nicht zum wahnsinnigen headbangen gedacht ist sondern die man sich für entspanntere Momente vorbehält. Das Stoner Herz werden die BLACK RAINBOWS mit "Superskull" auf jeden Fall (auch live) begeistern!
Judith Kroll vergibt 8,5 von 10 Punkten