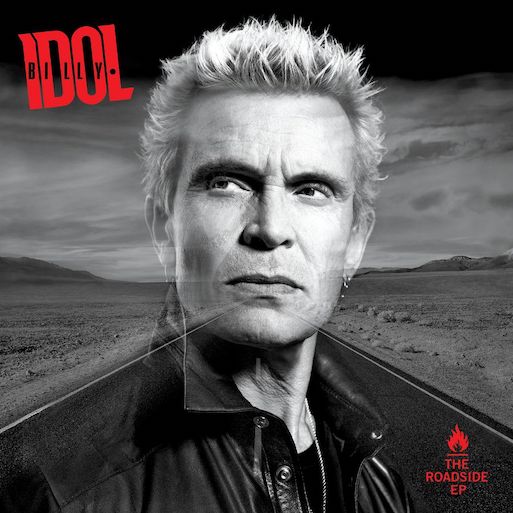 BILLY IDOL
Titel: THE ROADSIDE (EP)
Label: DARK HORSE RECORDS
Spieldauer: 16:03 Minuten
Punk-Rock und 80er Jahre Ikone BILLY IDOL veröffentlicht mit "The Rodside" seinen ersten Release in satten sieben Jahren. Und ja, er kann es immer noch! Der gute Laune Opener 'Rita Hayworth' rockt wie die berühmte Sau und krallt sich mit seinem extrem catchy Refrain in den Gehörgängen fest. Nicht weniger als eine verdammte Rock-Hymne hat der Mann, der seit mehr als 40 Jahren im Geschäft ist, da mal wieder geschrieben.
Nachdenklich, melancholisch und sehr persönlich zeigt sich die darauffolgende Lead-Single 'Bitter Taste', die sich inhaltlich mit seinem beinahe tödlich verlaufenden Motorradunfall 1990 beschäftigt: "I was staring in the Devil's eye". By the roadside. It's a bitter taste" Was soll man als Rezensent noch zu den Textzeilen ergänzen, wenn doch damit alles gesagt ist? Musikalisch könnte man den von Akustikgitarren dominierten Track als hervorragenden Soundtrack zu einem emotionalen Roadmoviefinale nutzen. Selten hat mich ein "normaler Rocksong" von Anfang an so gepackt. Grandios!
Die 80er werden im nächsten Track  'U Don't Have to Kiss Me Like That' herauf beschworen. Klar, ist der Song kein zweites 'Rebel Yell' aber seinen Charme hat die, im typischen BILLY IDOL Stil rockende Nummer trotzdem, braucht aber ein zwei Anläufe bevor er richtig zündet. Das finale 'Baby Put Your Clothes Back On' fällt dahingegen ab und ist klar der schwächste Song auf der EP. Ein einfacher Rocksong der nicht weh tut  aber auch nicht zwingend ist und von BILLY IDOLs eigenem Backkatalog deutlich überschattet wird.
Trotz des kleinen Mankos  am Ende muss das Fazit für "The Rodside" aber absolut positiv ausfallen, sind doch mit dem sehr guten Eröffnungstrack und dem überragenden 'Bitter Taste' zwei Tracks enthalten, die einfach nur geil sind und für kommende Liveshows zu den zahlreichen Highlights gehören werden.
Sven Bernhardt vergibt 8,5 von 10 Punkten