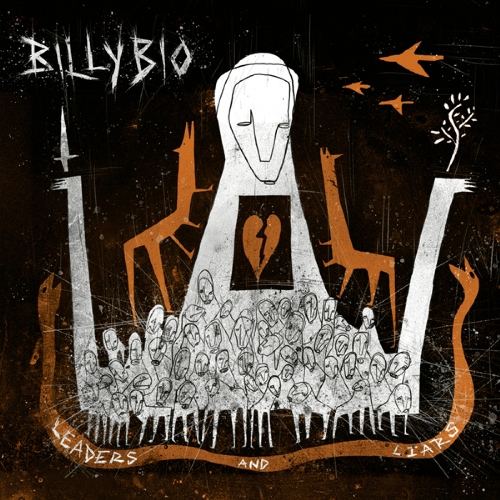 BILLY BIO
Titel: LEADERS AND LIARS
Spieldauer: 42:38 Minuten
VÖ: 25. März 2022
Hinter BILLY BIO steckt – und dies sollte zumindest Genre Freunden bekannt sein – niemand anderes, als Billy Graziadei, der Sänger und Gitarrist bei den New Yorker Szene Urgesteinen namens Biohazard war.
Biohazard haben sich zwar offiziell nicht aufgelöst, waren aber auch seit den letzten 10 Jahren nicht mehr aktiv.
Das war BILLY BIO dann doch zu langweilig, so dass er 2018 sein Solo Projekt startete, mit dem er natürlich musikalisch im Fahrwasser der Hardcore Legende schwamm; und dies völlig legitim.
Nun gibt es das zweite Langholz und glücklicher weise hält BILLY BIO auch heuer seine Linie bei.
Roh, düster und immer im Geiste des New York Hardcore ballert uns Billy hier seine ureigene Verschmelzung von Punk, Hardcore und Metal Bestandteilen um die Ohren.
Tracks wie der groovige Hardcorer 'Fallen Empires', das schleppend beginnende und dann groovig rockende 'Deception', der Up Tempo Groover 'Looking Up', der pumpende "Dicke Hose" Corer 'One Life To Live' mit seinem hymnischen Refrain und die abwechslungsreichen 'Our Scene' mit seinem fast melodischen Refrain und 'Cyanide'  wissen mehr als zu gefallen.
Und meinen Lieblingssong des Albums, den Titeltrack 'Leaders And Liars' mit seinem fett pumpenden Groove und dem melodischen Chorus sollte man nicht unerwähnt lassen.
Hier hat Billy von den Songs bis hin zur Produktion alles in seiner Hand gehabt und einen würdigen Beitrag zum Thema NYHC verfasst, der auch zu den glorreichen Zeiten der Szene in den 90er Jahren seine Berechtigung gehabt hätte.
Ludwig Lücker vergibt 8,5 von 10 Punkten