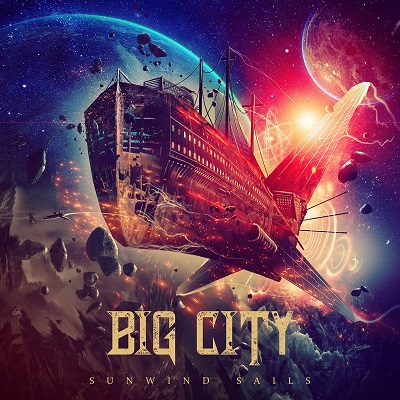 BIG CITY
Titel: SUNWIND SAILS
Spieldauer: 50:06 Minuten
VÖ: 20. Januar 2023
Diesen Monat versorgt uns Frontiers Records mal wieder mit reichlich melodischem Hardrock mit leichter Metalkante oder anders ausgedrückt Melodic Power Metal der guten bis noch besseren Art.
So auch im Falle der Norweger BIG CITY, die ihre neue Scheibe "Sunwind Sails" vorstellen, die zweite Arbeit mit dem talentierten, neuen Sänger Jørgen Bergersen nach dem Vorgängeralbum "Testify X (2021).
Gitarrist, Songwriter und Bandgründer Daniel Olaisen bedient die Seinen mit packenden Songideen an der Grenze vom Melodic Hardrock zum 80s Metal, welche diese musikalisch gut und kompetent umsetzen.
Kein Wunder, waren sie doch allesamt bereits (wie auch der Mastermind höchstselbst) in diversen Prog Metal Kapellen unterwegs und Frank Nordeng Røe als Session Drummer unter anderem für Circus Maximus und Leprous tätig.
Dazu kommt die dominante Stimme des Fronters, musikalisch ist hier also grundsätzlich erstmal alles im grünen Bereich. Und doch will der berühmte Funke nicht so recht überspringen und die zehn Tracks offenbaren doch die ein oder andere Länge und einige wenig spektakulären, eintönigen Durchhänger, aber auch das ein oder andere Highlight.
Anspieltipps daher: der eingängige Rocker und Opener `I'm Somebody´, das treibend-dramatische, atmosphärisch dichte `Human Mind´, der gute, majestätische Titelsong, das eingängige, abschließende `Sparks Of Eternity´ sowie der mit Abstand beste Song der Scheibe, das hymnische Hammerfall-artige `After The Raid´.
Michael Gaspar vergibt 7 von 10 Punkten