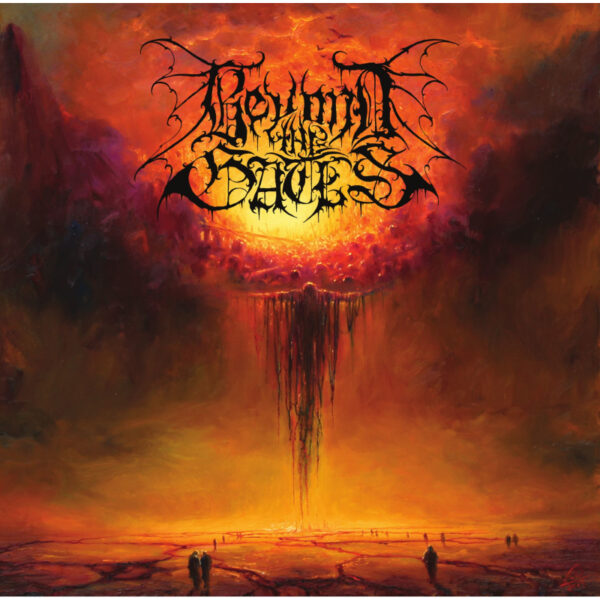 BEYOND THE GATES
Titel: BEYOND THE GATES
Label: EVIL SPELL RECORDS
Spieldauer: 38:16 Minuten
VÖ: 08.09.2022
Blackened Speed Metal ist zwar nicht unbedingt mein Ding, aber da zwei Mitglieder meiner liebsten Kauz Doomer Lord Vigo an Bord sind, ist BEYOND THE GATES für mich natürlich Pflichtprogramm. Neben den Palm Brüdern ist auch noch Christians alias Zildrohars Sohn mit dabei, so dass man hier fast von einem Palm`schen Familienprojekt sprechen kann.
Wie gesagt, fühle ich mich in diesem Genre nicht wirklich heimisch. Das liegt in erster Linie an den Vocals, die mir vor allem aus der Konserve auf Dauer einfach auf den Sack gehen. Live ist das eine andere Sache, da habe ich Bütcher beim Iron Fest oder Desaster auf dem Detze zuletzt sehr genossen. Die wahre Macht dieser Art von Mucke kommt halt erst auf der Bühne wirklich zum Tragen.
Gleichwohl trägt das Debüt von BEYOND THE GATES eindeutig die Handschrift von Zildrohar (Gitarre) und Clortho (Schlagzeug), dessen Drumming einfach unverkennbar ist. Stilecht treten die Jungs natürlich das Gaspedal zumeist bis zum Bodenblech durch, streuen jedoch immer wieder geschickt Midtempo-Passagen zur Auflockerung ein ('Outpost 31'). Mit 'The Reaper' befindet sich ein Bathory-Cover auf dem Album, welches gut zum Rest des Songmaterial passt.
Da das Cover von Mariusz Lewandowski (R.I.P.) und die Produktion von Patrick W. Engel state of the art sind, kann man 'Beyond The Gates' nur jedem Genrefreund ans Herz legen. Die CD ist bei Evil Spell Records (Beyond the Gates – Beyond the Gates, CD – Undercover Records, 14,00 € (undercover-records.de)) erschienen, während sich die Vinyl-Freaks bis zum Frühjahr 2023 gedulden müssen, wenn Diabolic Might Records die Platte veröffentlichen wird.
Alex Fähnrich vergibt 7 von 10 Punkten