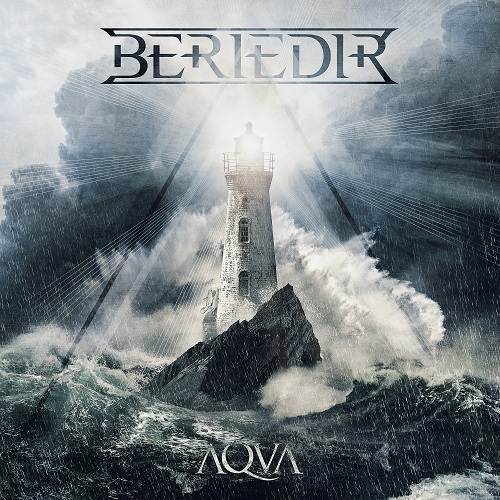 Spieldauer: 57:30 Minuten
Der Progressive Melancholic Power Metal Act BERIEDIR ist in Bergamo beheimatet und seit 2015 gemeinsam aktiv. Nach dem Debüt "The Path Beyond The Moon" (2018) erscheint nun der Zweitling "Aqva" des italienischen Quintetts.
Der Power Metal des Fünfers weist starke progressive Elemente und leichte Melo Death Anteile auf. Manchmal braten die Gitarren deathmetalartig und der ein oder andere Song weist auch leicht aggressive Vocalanteile auf.
Es überwiegt aber der melodisch-hymnische Ansatz deutlich, denn über das recht harte Riffing legen sich die hohen, klaren, beinahe ätherischen Vocals von Fronter Stefano Nüsperli, dessen sehr intensives und präsentes Tastenspiel ein weiteres deutliches Trademark des Bandsounds ist.
Pfeilschnelle Power Metal Hymnen wie der grandiose 'Departure Song', das simple, eingängige 'Stormbound' (feat. Vision Divine-Sänger Ivan Giannini) und das abschließende 'Moonlight Requiem' stehen neben komplexen Epen wie 'The Dove And The Serpent', dem Cello-begeleiteten 'The Angel In The Lighthouse' und dem hart-progressiven 'Rain'.
Textlich und inhaltlich geht es um Wasser in seinen verschiedenen Daseinsformen als unter anderem Regen, Fluss oder Tränen sowie seine unter anderem verbergenden, konservierenden und heilenden Eigenschaften.
Fazit: hochkarätiger Silberling ohne Ausfälle, der sowohl für Fans von hartem, melodischen Prog als auch schnellem, hochwertigen Power Metal unbedingt geeignet ist! Für Anhängevon Vision Divine oder Secret Sphere definitiv ein Muss, die dominanten Keys lassen manchmal an Stratovarius denken, die teilweise fast sakrale Stimmung an Ghost (mit Gitarren und Anspruch).
Michael Gaspar vergibt 8,5 von 10 Punkten