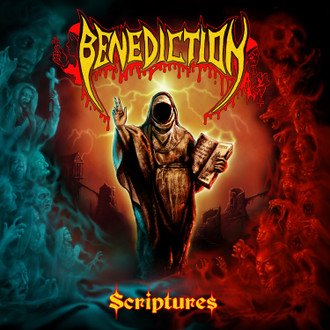 BENEDICTION
Titel: SCRIPTURES
Spieldauer: 46:50 Minuten
Eine der wenigen noch lebenden Death Metal Institutionen sind BENEDICTION und sie sind zurück. Und Wie!! Mit der Rückkehr des Growlers Dave Ingram sind die Briten 2020 unglaublich stark und so schaffen es BENEDICTION eines der besten Death Metal Alben des Jahres, wenn nicht DAS beste zu rauszuhauen.
Dabei liegen zwölf Jahre Album-Pause hinter ihnen und in dieser Zeit müssen die Herren unfassbare Kreativität aufgestaut oder Unmengen an Songs kreiert haben aus denen sie bei "Scriptures" auswählen konnten. Die erste Single 'Rabid Carnality' zeigte schon mal wo es 2020 lang geht (hier geht es zum Video). Kompromissloser, urtümlicher old-school Death Metal, der einfach nur brutal nach vorne geht und alle Trademarks der Band in sich trägt. Tödliche, tief gestimmte Riffs walzen alles platt und sägen sich in das Stammhirn, das den Körper willenlos bangen lässt. Die zwölf Songs sind selbstredend nicht die Neuerfindug des Death Metals aber, ausgestattet mit einer Mörderproduktion, einfach nur effektiv.
Egal ob nun schnelle Nummern wie der Opener 'Iterations Of I' oder 'Embrace The Kill' die einfach gnadenlos durchhämmert, up-tempo Songs a la 'Scriptures of Scarlet' oder eher langsame Tracks wie 'Tear Off These Wings', alles klingt in seinem simplen Riffing vertraut und gleichzeitig zeitgemäß. Dazu thront Dave Ingrams mächtige Stimme unerbittlich über den Songs und spätestens, wenn er den Kam Lee gibt ("Heeeeeeeey"!), muss sich jeder old-school Fan einfach dem Charme und der fast immer großartigen Songqualität ergeben. Dabei besitzt beinahe jeder Song wenigstens ein catchy old-school Riff, das jeden Death Metaller automatisch auch im "Leise-Modus" mitwippen lässt. Genau so muss old-school Death Metal klingen!
So bleibt als logische Konsequenz nur ein Fazit: Verdammt viele Punkte
Sven Bernhardt vergibt 9 von 10 Punkten