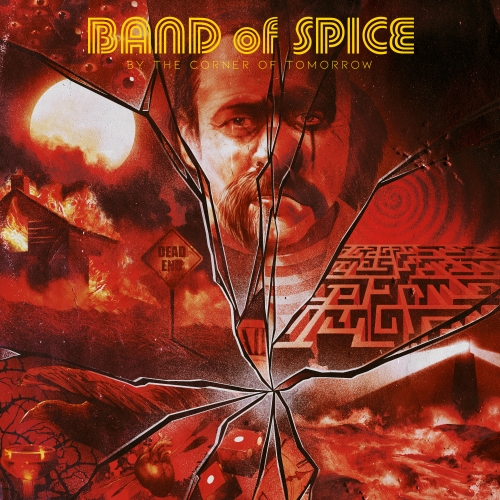 BAND OF SPICE
Titel: BY THE CORNER OF TOMORROW
Spieldauer: 43:11 Minuten
Christian 'Spice' Sjöstrand sollte eigentliche jedem Metalfan schon einmal untergekommen sein, wildert der Tausendsassa in seinen verschiedenen Ex- und noch Bands und Projekten doch auf einem weiten Feld von 70ies Hardrock bis Thrashmetal. Mit 'BAND OF SPICE', früher mal Spice And The RJ Band, ist der klassische 80er Heavy Metal im Dio/Black-Sabbath-Soundgewand sein Hauptmetier. Und damit liegt er dann wohl am Nächsten an seiner wohl bekanntesten Ex-Band, den Spiritual Beggars.
Zumindest bei den ersten drei richtigen Songs, Nummer 3 'Tehom' ist ein akustisches Zwischenspiel, dass irgendwie mittendrin abgebrochen wird, des mittlerweile fünften Studioalbums "By The Corner Of Tomorrow" packen BAND OF SPICE die Heavy-Rock-Kelle aus. 'The Fading Spot' in bester Dio-Opener-Manier, 'Call Out Your Name' und 'The Sharp Edge' sind abwechslungsreiche, toll gespielte und gesungene Nummern, die die Hoffnung auf mehr solcher Hits schüren. Leider verliert sich die BAND OF SPICE anschließend ziellos in belanglosen Rock- und Akustiknummern, Angestonertem und psychodelischen Überflüssigkeiten. Auffallend hier, dass Spice, nimmt er das kraftvolle, angerauhte aus der Stimme, in den ruhigen Passagen teilweise die Tonsicherheit fehlt. 'Midnight Blood' deutet nochmal an, was dringewesen wäre, aber auch dieser Song wird durch einen soundcollagigen Mittelpart zerrissen. Die insgesamt gute Produktion uns das ansprechende Cover können da dann auch nicht mehr viel retten.
Schade, der Beginn von "By The Corner Of Tomorrow" versprach ganz großen Sport. Leider geht BAND OF SPICE schon vor der Hälfte der Strecke die Luft aus. Man hat unweigerlich das Gefühl, als wäre man mit drei Songs und ganz vielen unausgegorenen Ideen ins Studio gegangen. Muss man nicht haben.
Dirk Eckhard vergibt 6,5 von 10 Punkten