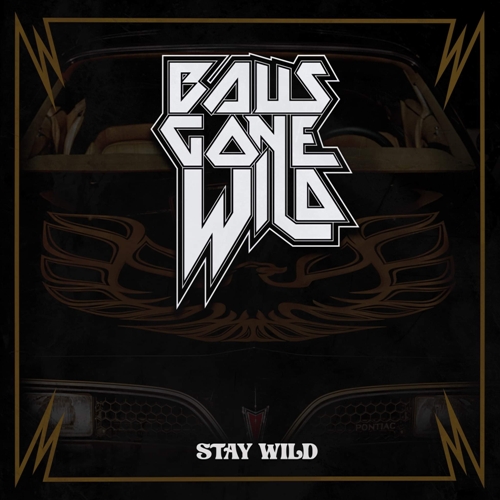 BALLS GONE WILD
Titel: STAY WILD
Spieldauer: 36:12 Minuten
VÖ: 22. Juli 2022
Da gibt es die wild gewordenen Balls jetzt auch schon zehn Jahre….
Das ist doch ein guter Anlass, damit das Trio von BALLS GONE WILD das ihnen bekannte Gernhardt Studio entert, um drei Jahre nach dem von mir sehr geschätzten Album "High Roller" endlich einen Nachfolger ein zu trümmern.
Das, nennen wir es einmal, ungewöhnliche Cover Artwork fällt auf, wenngleich auch nicht bei allen positiv. Aber, und das ist das wichtigste, die Mucke der Jungs ist trotz eines Wechsels auf dem Drum Hocker, die gleiche geblieben. Und seien wir doch mal ehrlich, auch das Cover des Erstlings war keine künstlerische Offenbarung….
Das von Metalville geprägte Label Turbo Rock für die Musik von BALLS GONE WILD trifft es perfekt.
AC/DC, schwedischer Rotz Rock, ne kleine Prise Motörhead und jede Menge Adrenalin und Spielfreude zusammen gemixt ergeben elf Songs die einfach Spass machen und zum Mitrocken einladen.
Und so treten Tracks wie 'Killing Man', 'School On Fire', 'Stay Wild' und 'Bride Of Satan' mächtig Arsch. Und auch die anderen sieben Tracks 'Hangman', 'Feel My Love', 'Twist Of Fate', 'Masked City', 'Knocked Out', 'Plata O Plomo' und 'Ready For Love' prötteln knapp hinter den Leadern über die Ziellinie. Ausfälle gibt es hier nämlich nicht zu verzeichnen.
"Stay Wild" von BALLS GONE WILD ist jedenfalls die perfekte Party Scheibe um Bier zu vernichten oder ne geile gute Laune Auto Mucke…..bei mir ist sie jedenfalls seit Wochen im Auto auf Dauerrotation, und das sowohl bei mir und meiner Frau. Aus diesem Grunde bekommt somit auch verdiente Neun Punkte.
Holt euch die Scheibe, köpft ein Pils und seht euch die Balls live an!
Ludwig Lücker vergibt 9 von 10 Punkten