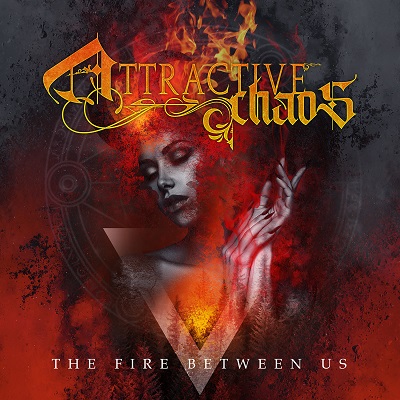 ATTRACTIVE CHAOS
Titel: THE FIRE BETWEEN US (EP)
Label: INDEPENDENT RELEASE
Spieldauer: 28:05 Minuten
VÖ: 12. April 2023
"The intricacies of love can consume us, as we lose our sense of reality and our dreams are transformed by the dances of the heart. We spin, bewildered by our ever changing roles in the passion play. We burn in the flames of desire and freeze in the cold ashes they can leave behind. So many doors to choose from and so many of them lead to nowhere, to a nothingness more powerful than pain. Yet the music never fails to entice and entrance, because behind one of those countless doorways lies a joy and peace supreme; a hand that will unwind the shroud the world has bound you in and allow your light to shine…"
So wunderschön und poetisch leiten die Melodic Metaller ATTRACTIVE CHAOS den Infotext zu ihrer Debüt-EP "The Fire Between Us" ein. Das Trio führt die musikalischen Talente von Bassist Pietro Paolo Lunesu (Even Flow), Gitarrist Clément Botz (Beneath My Sins) und Sängerin Emma Elvaston (Beneath My Sins) in einem frischen, melodischen Metal-Elixier zusammen.
Die sechs Tracks klingen in ihren Facetten so unterschiedlich, abwechslungsreich und spannend, dass sie Aufwand und Zeit wert sind, sie im Folgenden im Einzelnen zu betrachten:
`Before You Hit The Ground´: die klaren, ätherisch bis symphonisch tönenden Vocals thronen über durchaus harten aus akustischen und E-Gitarren gemischten Riffs und Melodien mit beinahe progressiven Passagen, einem Solo und einem tollen Chorus
`Won And Lost´: zu Beginn spielt das "Synthie-Orchester" auf und trifft auf bezaubernde, fast poppige Vocals und interessante Pianoparts. Eine Art Schlagzeugsolo, pumpendes Riffing und der eingängige Refrain erledigen den Rest
`Come To Me´: auf einen rifflastigen Start folgen zurückhaltende, mehrstimmige Gesänge, ein hymnisch-bombastischer, choraler Refrain und ein kurzes, kombiniertes Keyboard- und Gitarrensolo
`Still Here´: die gefühlvolle Pianoballade entwickelt sich zum mehrstimmigen, emotionalen männlich-weiblichen Duett mit teilweise italienischen Lyrics
`As You Are´: wirkt auf den ersten Blick und zum Start zunächst ein wenig unspektakulär, doch dann kommen mitreißender männlich/weiblicher Wechselgesang mit Power Metal Anleihen, zwei knackige Gitarrensoli und üppige Keyboardsounds um die Ecke.
`The Storm´: Progressiver, lässiger Anfang wird von breiten Riffs und einem üppigen Keyboardteppich sowie einem wieder mehrstimmigen Gesangduell und einem hymnischen Refrain abgelöst, dennoch nicht ganz so stark wie die restlichen Kompositionen
Fazit: vielseitiges, teilweise hochklassiges Debüt für alle Melodic/Symphonic Fans mit ordentlicher Spielzeit, dem hinten raus minimal die Luft ausgeht, der aber tonnenweise Potential offenbart und für die Zukunft so einiges erwarten lässt.
Michael Gaspar vergibt 8 von 10 Punkten