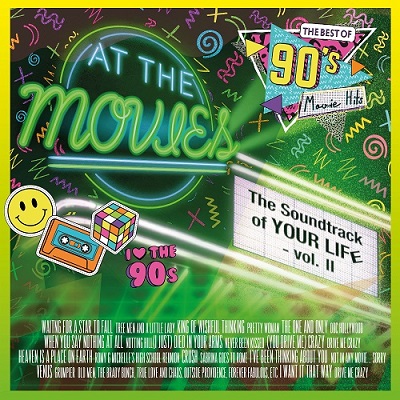 AT THE MOVIES
Titel: THE SOUNDTRACK OF YOUR LIFE VOL. 1+2
Label: ATOMIC FIRE RECORDS
Spieldauer: 43:31/42:38 Minuten
Bereits im ersten Corona-Lockdown im Frühjahr 2020 wurde das All-Star Projekt AT THE MOVIES aus der Taufe gehoben. Filmfreak, "E.T."-Fan und Pretty Maids-Keyboarder Chris Laney nahm eine Coverversion zum kitschigen Song 'Pop Goes My Heart' aus dem Film "Mitten ins Herz – Ein Song für dich" mit Hugh Grant auf und sendete sie dem dänischen Schlagzeuger Allan Sørensen, der sofort Feuer und Flamme war.
Bei der Interpretation weiterer Titelsongs wirkten dann "ein paar Freunde" wie Morten Sandager (Firesoul, ex-Pretty Maids), Pontus Egberg (King Diamond, Wolf) und Pontus Norgren (Hammerfall, Pänzer, Talisman, Dreams Fall) mit. Am Mikro glänzen die bezaubernde, hochtalentierte Linnéa Vikström (QFT, ex-Therion) und der unglaubliche Björn "Speed" Strid (Soilwork, The Night Flight Orchestra). Teil 1 wurde bereits Ende 2020 in Eigenregie veröffentlicht und erscheint nun als Re-Issue gemeinsam mit Vol. 2.
Los geht die wilde Fahrt in den filmischen Achtzigern. Mit viel musikalischem Können, einem Augenzwinkern und einer Menge Energie präsentieren AT THE MOVIES ihre kurzweiligen Versionen von beispielsweise 'St. Elmo's Fire (Man In Motion)' (John Parr Cover aus "St. Elmo's Fire") und '(I've Had) The Time Of My Life' (Billy Medley, Jennifer Warnes Cover aus "Dirty Dancing").
Stilistisch bewegt man sich vorwiegend im Hardrock/AOR-Bereich, werden doch echte Diskokracher und dramatische Popballaden wie 'Maniac' (Michael Sembello Cover aus "Flashdance"), ''The Heat Is On' (Glenn Frey Cover From "Beverly Hills Cop"), 'The Power Of Love' (Huey Lewis And The News Cover aus "Zurück in die Zukunft") oder 'The Neverending Story' (Limahl Cover aus "Die unendliche Geschichte") in echte Rocker oder wie die Info es ausdrückt: "furiose, hart rockende, lederjackentragende Versionen, die man so niemals zu hören geglaubt hätte" verwandelt.
Hervorzuheben ist außerdem noch die fantastisch von Pretty Maids-Frontmann Ronnie Atkins dargebotene Bearbeitung von 'We Don't Need Another Hero' (Tina Turner Cover aus "Mad Max: Jenseits der Donnerkuppel") sowie der Bonus-Track in Form eines ebenfalls gelungenen Wham!-Covers von 'Last Christmas'.
Teil 2 widmet sich sowohl filmisch als auch musikalisch den Neunzigern. Die elf neuen Tracks sprühen erneut vor Spaß und Spielfreude, stammen jedoch größtenteils aus eher unbekannten Filmen. Darunter echte Kracher wie 'Heaven Is A Place On Earth' (Belinda Carlisle Cover aus "Romy and Michele's High School Reunion") und '(I Just) Died In Your Arms' (Nick Van Eede, Cutting Crew Cover aus "Ungeküsst"), die erneut gekonnt und launig "metallisiert" werden.
Durch die Songauswahl aus eher poppigen Gefilden und den damit verbundenen, größeren stilistischen Unterschieden zwischen den Originalen und den Versionen von AT THE MOVIES wird die ganze Geschichte nochmal spannender und unterhaltsamer. Zudem erscheinen die Arrangements hier packender, stimmiger, ausgefeilter und mit noch mehr Liebe zum Detail als bei Vol. 1.
Man höre zum Beweis die Versionen von Pop-Knaller wie '(You Drive Me) Crazy' (Britney Spears Cover aus "Drive Me crazy") und 'The One And Only' (Nik Kershaw, Chesney Hawkes Cover aus "Doc Hollywood"). Ebenso können der aus der Teeniepophymne 'Crush' (Jennifer Paige Cover aus "Sabrina goes to Rome) entstandene Gitarrenrocker und der Backstreet Boys-"Brecher" 'I Want It That Way' in der neuen Version überzeugen.
Da auch die softeren Bearbeitungen von Klassikern wie 'When You Say Nothing At All' (Keith Whitley, Ronan Keating Cover aus "Notting Hill"), 'I've Been Thinking About You' (Londenbeat Cover) und 'Venus' (Shocking Blue, Bananarama Cover aus "Grumpier Old Men") frisch und modern klingen, machen diese beiden Silberlinge einfach Laune, neugierig auf mehr (Vol. 3?) und Lust auf eine baldige Liveumsetzung der Songs!
Michael Gaspar vergibt 8,5 von 10 Punkten