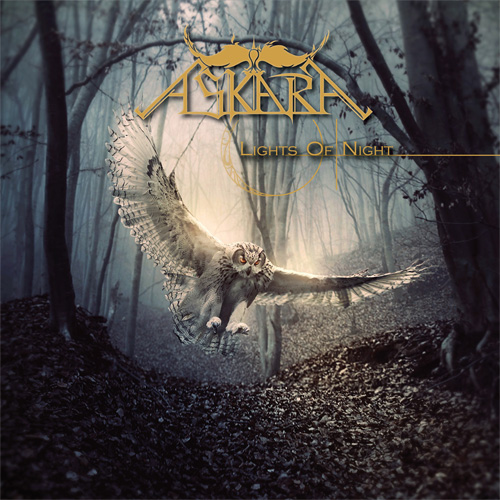 ASKARA
Titel: LIGHTS OF NIGHT
Spieldauer: 41:54 Minuten
VÖ: 08. April 2022
Die Schweizer Melodic Dark Metal Band ASKARA präsentiert nach ihrem Debüt "Horizon Of Hope" (2016) ihren Studiozweitling "Lights Of Night" mit elf brandneuen Stücken mit einem düster-melodischen Sound irgendwo zwischen Gothic, Dark und Melodic Death.
Der im Infotext avisierte "Mix aus Groove, Härte, Atmosphäre und Melodie" ist dabei zwar in Teilen gelungen und auch der helle Klargesang von Frontfrau Miril weiß zu gefallen, doch wenn Bassist/Sänger Elia seine seltsam verzerrten, gleichförmigen, gutturalen Vocals (Growsl möchte man das gar nicht nennen) beisteuert, ist es vorbei mit dem Hörgenuss.
Beim abschließenden, sechsminütigen `The King´s Song` hat man sogar das Gefühl, die beiden Gesangsstimmen arbeiten gegeneinander. Doch damit nicht genug: weitere Minuspunkte, die mir an sich gute Ansätze wie die Single `Dark Night Of The Soul Pt. I` und das knapp 9-minütige Epos `To Ailsa Rock` verleiden, sind die unausgewogene Produktion (Gitarre/Schlagzeug "knarzen", Piano meist viel zu laut), das eintönige, wenig spannende Songwriting und die fast immer gleichbleibende Langsamkeit der Stücke.
Einige wenige Lichtblicke sind aber dennoch vorhanden. So funktioniert die Symbiose der beiden Vokalisten beim guten `By God` ausnahmsweise mal wohlproportioniert und weitgehend reibungslos. Die beiden Highlights sind aber die nur durch Cello und Piano gestützte, stimmungsvolle Ballade `Hibernation` mit ihren wunderschönen Harmonien und tollem, mehrstimmigen, ausschließlich weiblichen Gesang sowie der eingängige Ohrwurm `Seven Years`.
Fazit: Trotz einiger guter Ansätze, vor allem in Komposition, Rhythmusfraktion und den femininen Vocals, sind zwei bis drei hörbare bis sehr gute Songs einfach zu wenig.
Michael Gaspar vergibt 5 von 10 Punkten