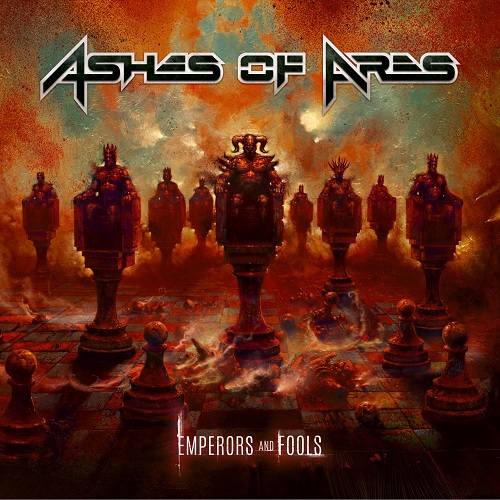 ASHES OF ARES
Titel: EMPERORS AND FOOLS
Label: ROCK OF ANGELS RECORDS/SOULFOOD
Spieldauer: 60:26 Minuten
Eine knappe Dekade firmieren die beiden ehemaligen Iced Earth-Bandkollegen Matt Barlow und Freddie Vidales nun schon unter dem Banner ASHES OF ARES und präsentieren ihren dritten Longplayer "Emperors And Fools". Den Platz am Schlagzeug nimmt Van Williams (Nevermore) ein.
Das Trio frönt dem US Power Metal mit thrashiger Schlagseite. Ähnlichkeiten mit der ehemaligen Hauptband sind natürlich rein zufällig und unbeabsichtigt, aufgrund der musikalischen Ausrichtung und des Organs des Ausnahmesängers jedoch unvermeidlich.
Ein Großteil der Songs erscheint jedoch seltsam uninspiriert und kommt nicht so richtig auf den kompositorischen Punkt. Die Doublebass wummert und die Gitarren braten vor sich hin, aber es mangelt an packenden Melodien, kreativer Treffsicherheit und Eingängikeit.
Spannend und unterhaltsam wird es vor allem dann, wenn von den schnellen, schweren Stücken wie dem Eröffnungsduo 'I Am The Night' und 'Our Last Sunrise' zu melancholisch-emotionalen und/oder dynamischeren Tracks gewechselt wird.
So beginnt das gute 'Primed' eher ruhig, steigert sich, verpufft dann allerdings ein wenig. Der Titelsong von "Emperors And Fools" dagegen zeigt, wie es geht, und überzeugt auf ganzer Linie. Auch 'Where God Fears To Go' und 'By My Blade' gehören zu den besseren, weil stimmigeren und mit guten Refrains gesegneten Stücken.
Ähnliches gilt für das ebenfalls abwechslungsreiche Gone und das hymnisch-majestätische 'Throne Of Iniquity', welches man bereits von der letztjährigen, gleichnamigen EP kennt.
Auch das abschließende, über elfminütige, mit Ideen vollgestopfte 'Monster's Lament', zudem ein Duett mit keinem Geringeren als Tim 'Ripper' Owens, kann den mittelprächtigen Eindruck von "Emperors And Fools" nicht mehr rumreißen, hat man doch den Eindruck die beiden Heroen singen hier eher nebeneinander als miteinander, wodurch kein flüssiger, mitreißender Song entsteht.
Ein großes Ärgernis ist zudem die erschreckend undifferenzierte, blecherne und schlappe Produktion, die das Ergebnis auch alles andere als besser macht.
Michael Gaspar vergibt 6 von 10 Punkten