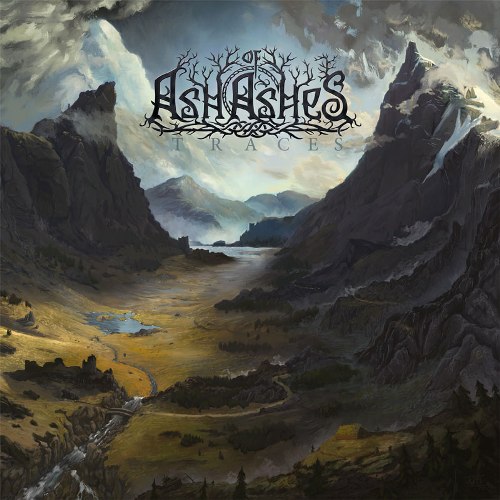 ASH OF ASHES
Titel: TRACES
Spieldauer: 40:05 Minuten
VÖ: 13. Mai 2022
Bei ASH OF ASHES steht als musikalische Zuordnung der Begriff Epic Pagan Metal, was in der heutigen Szene ja nun ein weiter Begriff ist. Hierunter subsumieren sich Bands von der schwarz metallischen Ausrichtung, über epischen Metal bis hin zu Ballermann-artigen Schunkel-Sauf Musikanten.
Und ASH OF ASHES ist im Grunde genommen das ein Ein-Mann-Projekt von Skaldir, der sich für die Aufnahmen dreier Mitstreiter bedient – plus einer Anzahl an Gastmusikern -, was bei mir zusätzliche Befürchtungen auslöst.
Bitte aber UNBEDINGT weiter lesen, denn dieses Ein-Mann-Projekt aus Nordrhein-Westfalen gehört zu den besseren Bands des Genres und orientiert sich eher an Falkenbach oder alten Crom – im übrigen auch richtig gute Ein-Mann-Projekte – und ist fernab aller Banalitäten.
So gibt es auf "Traces" richtig gute Songs wie der epische, schleppende Opener 'Beyond White Waters', das von Stakkato Riffing geführte, treibende 'Into Eternity', das schleppende, epische 'The Eternal Traveller', das pumpende 'Evermore'und die beiden abwechslungsreichen 'A Lion Guards Our Names ' und 'Southbound'.
Der vorhandene Wechsel zwischen Klargesang und Growls wirkt organisch und nicht zwanghaft aufgesetzt und auch bei Artwork und Sound gibt es wenig zu meckern.
Fans der genannten Vergleichsbands sollten, nein eher gesagt müssen, unbedingt ein Ohr riskieren.
Ludwig Lücker vergibt 8,5 von 10 Punkten