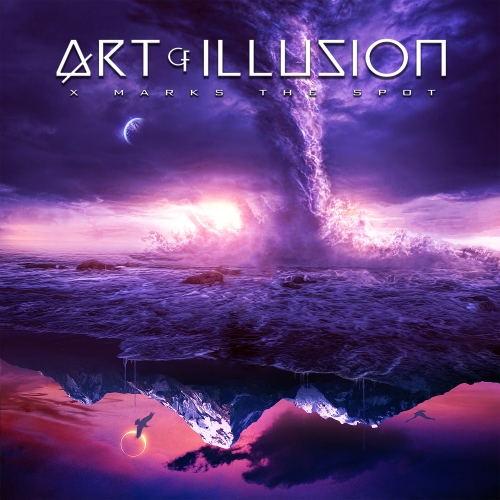 ART OF ILLUSION
Titel: X MARKS THE SPOT
Spieldauer: 53:38 Minuten
Die schwedische AOR-Mafia hat wieder zugeschlagen. Irgendwie müssen die alle nicht ausgelastet sein, siehe auch die Kollegen von W.E.T. Hier haben sich nun Goldkehlchen Lars Säfslund von Work OF ART und Mastermind Anders Rydholm von Grand ILLUSION unter dem Namen ART OF ILLUSION zusammengefunden, um, zusammen mit einigen üblichen Verdächtigen, das bereits überquellende Buch des Adult Oriented Rock um ein weiteres Kapitel zu erweitern.
Daß mit ART OF ILLUSION Könner ihres Fachs am Werke sind, wird niemand zu bestreiten wagen. Wer jedoch dennoch Zweifel hegt, wird hier mit einem ganzen Strauß bunter und schmissiger AOR-Hits in der Schnittmenge von Toto/Journey/Giant, wie dem Opener 'Wild And Free', 'Run', 'Go', 'Snakebite Charm', Catchy As It Can, äh, falsch 'Catch You As I Can' oder 'Rampant Wildfire' , schnellstens eines Besseren belehrt. Auch die klassische Piano/Streicher-Ballade findet hier in Form von '4AM' und 'Race Against Time' ein flauschig-kuscheliges Zuhause. Aber ART OF ILLUSION bieten mehr. Etwas, was sie aus der Masse ähnlich gelagerter Veröffentlichungen hervorstechen lässt. Erstmals angedeutet im Anspieltipp und besten Song des Albums 'My Loveless Lullaby'. Einen unüberhörbaren Hang zu den theatralisch-opulenten Chor-Arrangements der Bombast-Götter Queen. Vollends ausgelebt und mit großartiger Gesangsarbeit von Lars Säfslund veredelt auf den Stücken 'Waltz For The Movies', 'Let The Games Begin' und 'A Culinary Detour'.
Genau das gibt ART OF ILLUSION gegenüber ähnlich gelagerten und stark abliefernden Bands wie W.E.T. einen Originalitätsvorsprung. Der AOR-Aficionado hat also keine Chance und muss sich 'X Marks The Spot' geradezu zwangsläufig in die Sammlung stellen. Ich verspreche, er wird es nicht bereuen.
Dirk Eckhard vergibt 8,5 von 10 Punkten