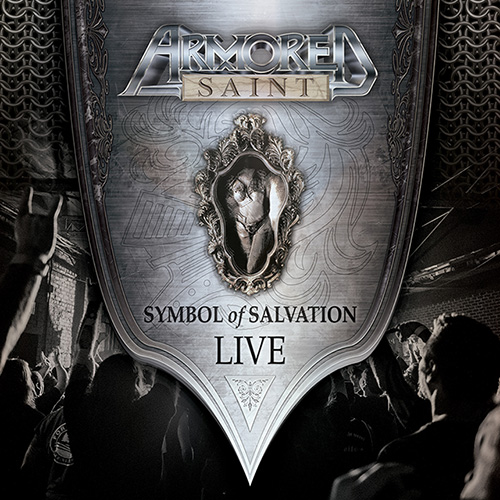 ARMORED SAINT
Titel: SYMBOL OF SALVATION LIVE
Label: METAL BLADE RECORDS
Spieldauer: 80:09 Minuten
1991 veröffentlichte die US-amerikanische Metalband ARMORED SAINT ihr fünftes Studioalbum "Symbol Of Salvation", welches sie als Eckpfeiler ihrer Diskografie und als Bindeglied zwischen der Zukunft und der Vergangenheit der Gruppe bezeichnet, denn vor den Aufnahmen was Gitarrist und Gründungsmitglied Dave Prichard nach kurzer, schwerer Leukämieerkrankung verstorben.
Die nun erschienene, 2018 im bekannten New Yorker Gramercy Theatre aufgezeichnete Live-Version ist also gleichsam dem 30-jährigen Jubiläum der Scheibe gewidmet als auch als Hommage und Gedenken an den ehemaligen Kollegen gedacht. Die Setliste des Auftritts entspricht der ursprünglichen Trackliste des Albums.
Dies hat zur Folge, dass mit 'Dropping Like Flies', 'Last Train Home' oder dem Titeltrack sowohl Stücke gespielt werden, die zum üblichen Live-Programm gehören, als auch Nummern wie 'The Truth Always Hurts', 'Burning Question' und 'Tainted Past' zur Aufführung kommen, welche ARMORED SAINT bisher eher selten live gespielt haben, was die Platte für Fans noch interessanter machen dürfte.
Es handelt sich um eine "normale" Live-Show, die vor Corona aufgenommen wurde, die Publikumsreaktionen halten sich jedoch trotzdem in Grenzen. Das New Yorker Publikum scheint nicht besonders euphorisch oder von der feierlichen Atmosphäre gefangen gewesen zu sein.
Auch die Ansagen Bush´s sind eher spärlich gesät, mit zwei emotionalen Ausnahmen: die Ballade 'Another Day' wird speziell zum Gedenken an Dave Prichard gespielt und auch dementsprechend angekündigt. 'Hanging Judge' widmet die Band dem Produzenten von "Symbol Of Salvation" und Gründer vom Metal Blade, Brian Slagel, welcher der Band bei der Verarbeitung von Prichard´s Tod half und die Produktion der Scheibe übernahm, die ohne ihn nicht möglich gewesen wäre.
Die Setliste enthält ergänzend fünf Demos aus den Schreibsessions zu "Symbol Of Salvation" mit Dave Prichard. Drei dieser Songs sind bereits auf dem 2018er Re-Release zu finden. 'People' und 'Nothing Between The Ears' sind auf der "Nod To The Old School"-Compilation (2001) erschienen.
"Symbol Of Salvation Live" sei somit vor allem Fans und "Nicht-Besitzern" des Albums wärmstens ans Herz gelegt, ist es doch gleichzeitig Geburtstagsplatte, Hommage und zeitloses Livedokument mit tadelloser Aufnahmequalität.
Michael Gaspar vergibt keine Bewertung